What does the future hold for remote workers?
I like to think that channel sales teams are intelligent enough to be able to identify a sales lead when it's dancing naked in front of them wearing a sandwich board with 'SALES LEAD' written on it.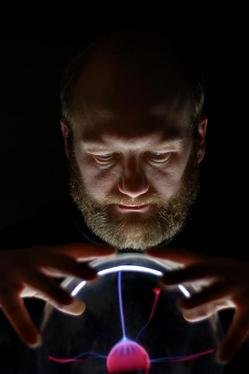 As London Underground staff embark on a planned 24 hour walk out, the channel has been reminded of the cost to the economy of a stranded workforce, and urged to be more proactive in talking up installations of remote working and unified comms technology...
No. Wait. Just ... no ....
I can't bear to transcribe any more of these press releases. We all know that remote working is a time-saver in a crisis, and I like to think that channel sales teams are intelligent enough to be able to identify a sales lead when it's dancing the macarena in front of them wearing a sandwich board with 'SALES LEAD' written on it.
Instead of boring you rigid, I decided to take a peek at the future of remote working, so I nicked a crystal ball off the newsdesk at Fortune Telling Week (one of RBI's lesser known titles) and looked up some future editions of MicroScope.
We turned to the Hovertube strike of 2025 and asked what technological innovation awaits us in the next 15 years?
Cisco TelePorter
A step up from its ubiquitous £10 per head TelePresence equipment, the Cisco TelePorter enables employees to work productively from a centralised location, often in their pyjamas, through deployment of molecular disruption and advanced symbiotic bio-generation techniques.
Cisco says the ethical and philosophical implications of being broken down into your constituent carbon atoms at a branch office and reassembled seconds later at company HQ have been rendered null and void by an incredible 200% rise in productivity and the elimination of commuting.
Sales of the TelePorter initially stalled due to the high price tag (£10m) and a tough accreditation process, although channel head Bernadette Wightman Jr. told MicroScope that the wrinkles in the top tier of the Cisco channel were being worked out, adding "the addition of networking mega-distie Comzlan Micro to the mix has started to generate some leads".
Unsurprisingly, Manchester 2.0-based Gold Partner ANS sold the first four installations, although a rift in the molecular matrix means their sales director is now half man, half fly.
Riverbed Brain Optimiser
If teleportation strikes you as risky, WAN optimisation vendor Riverbed has come to the rescue with the Brain Optimiser. A home kit that plugs into your BlackBerry, the Brain Optimiser penetrates your skull with minute electrodes and downloads the contents of your head to a secure, virtualised cloud.
Your employer can then access the information held in the cloud to download your brain's computing power and utilise it to carry out your day-to-day tasks via desktop or heads up display on a cloned humanoid unit.
With sufficient bandwidth and network prioritisation tools installed remote workers have been known to put in 96 hour shifts from the comfort of their own sofas.
Responding to claims made by a distributor who requested anonymity, claiming that two home workers had wasted away and been found eaten by their cats, Riverbed denied that the Brain Optimiser was in any way exploitative.
Telepathy on Demand from Virgin Media Business
B-2-B ISP Virgin Media Business has begun trials of a next-generation fibre-optic system designed to allow home workers to communicate telepathically with their colleagues.
The service makes use of a home or mobile broadband connection and a downloadable patch that, when installed on a chip located at the base of the user's neural cortex, will translate a home worker's thoughts into digital code that can be transmitted over the network to a receiving headset unit at the far end.
A Virgin spokesman said: "Transport strikes are more than an irritation; they cost the economy millions of pounds in lost productivity. Yet, whilst the Hovertube lines may be down, that doesn't mean that businesses' bottom lines have to be, too."
However, one reseller claimed that security issues had turned his customer interactions into a minefield.
"We even had CRN journalists downloading confidential information from our account manager," he complained.
HP Networking DeLorean
When Hewlett-Packard first announced plans to get around the strike by sending people back in time to complete their tasks before the planned RMT walk-out began, the channel raised a sceptical eyebrow.
However, exhaustive research by the vendor found that their data centre cooling infrastructure would easily provide the necessary 1.21 gigawatts of energy needed to power a modified DeLorean DMC-12 to 88 mph and thence back in time.
HP and its partner network have been busily building replicant offices so that a time-travelling workforce can avoid unnecessary interaction with their past selves, potentially causing a rift in the space-time continuum and tax banding issues for those on PAYE.
However, the vendor vigorously denied reports of teething problems with demonstration models made available through partners including Softcat and Kavanagh.
When asked where the firm obtained the plutonium for the flux-capacitor, HP Networking's UK country manager sang like a canary: "From a group of Libyan nationalists. They wanted me to build them a bomb, so I took their plutonium and in return, gave them a shiny bomb-casing full of used pinball machine parts!"
Speaking from the flaming wreckage of a branch office, a Kavanagh spokesman who declined to be named said: "I don't know what this will mean for our rebates."
Photograph courtesy of Fotex/Rex Features