Time to take the Survey Monkey
Nick Booth got the chance to talk to the new managing director at Survey Monkey and presented him with an interview format he would be all too familiar with
One of the curses of the digital age is the survey. Like all aspects of modern life, surveys can be used for good or evil, but digitization has seen this weapon fall into the wrong hands.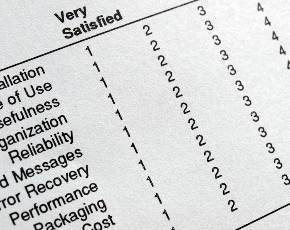 Every aspect of customer relationship management is in danger of descending into sinister electronic stalking and surveys are no different. For example, when I bought an internet connection from Virgin Media, the CRM seemed to think we were 'in a relationship'. After being bombarded with nuisance sales calls, I've was forced to demand restraint. On the other hand survey technology, if used correctly, could be a brilliant communications tool for the IT business.
With this in mind, MicroScope has quizzed Mansoor Malik, the new managing director of SurveyMonkey, for his thoughts on how vendors, service providers and end users could communicate more effectively.
Question 1. Survey merchants are regarded as time wasting pests. Should we:
A. Ban everyone from using SurveyMonkey
B. Only license sensible people to use it, provided they pass a test
C. Advise all users to seek guidance before creating an online questionnaire
The answer is C, says Malik, who adds: "Survey don't have to be annoying. There's a science to conducting them properly."
Malik recommends that any vendor wanting to survey their partners or customers needs to invest much thought into the process. Your questions should be tantalizing, leaving the reader wanting more. There's a whole art to constructing this narrative and teasing the story out of your audience, he says.
SurveyMonkey offers online tips to creating a survey. There's a range of templates for constructing the questions and a diversity of ways that audiences can respond. If you can't think up your own questions, SurveyMonkey provides 2,000 examples to provide inspiration. Which begs the question.
Question 2. How long should a survey take?
A. 12 hours
B. 12 minutes
C. 12 seconds
The answer is B, according to Malik. If you go beyond that length you will lose the audience, or get silly answers. Many companies do this, he says, because they have merely taken the old fashioned questionnaire and stuck it online, without trying to tweak it.
In the old days of face to face surveys, the length of the survey was massive because once a market researcher actually found someone who was prepared to answer questions, they wanted to maximize the opportunity. But putting it online without changing the process is pointless, he advises.
Question 3. Which type of people absolutely love surveys and will welcome them – the longer the better.
A. A busy chief executive with 2,000 employees
B. A chief information officer in charge of a £1bn IT budget
C. Lonely Eddie from the Postroom who wants to win an iPad
That's a good point, says Malik. "Surveying has to change to reflect behaviours," he says. That means recognizing time constraints and constructing the survey to give the candidate something useful.
Malik was headhunted from Foresee Results with a brief to expand the team in the UK. His mission - to boost the UK customer base - got off to a good start with Virgin Galactic, The Sun newspaper and IKEA all becoming enterprise customers. It's also part of the G-Cloud initiative, so its survey tools could be a boon to any service providers seeking public sector cloud computing jobs.
Our final SurveyMonkey style question is this:
Question 4. Which of the two statements below would you say is the more true?
A. These days you really have to compete for people's attention because everyone has the weapons of mass communication. Few companies use them responsibly.
B. It's not the weapons that are the problem, but the way people use them. The enabling technology comes free but only those with understanding, intelligence and imagination will be able to add value to them.
Definitely answer B, says Malik. SurveyMonkey is now rolling out its 'Audience' offering in the UK, a sampling service that gives businesses access to a panel of tens of thousands of consumers.
If you do use it, please think carefully before you bombard your audience with questions.