Security the VAR's answer to service provider cloud dominance?
CRYPTOCard CEO Neil Hollister responds to our recent column, 'Being rational about resellers in the cloud' and suggests that security services could be the means by which resellers can take on the big service provider players.
Cryptocard CEO Neil Hollister responds to our recent column, 'Being rational about resellers in the cloud' and suggests that security services could be the means by which resellers can take on the big service provider players.

Download this free guide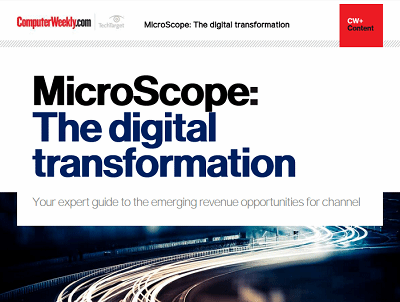 Emerging revenue opportunities for the channel with digital transformation
Digital transformation is a phrase that means many things to many people but for it to have any real relevance to the channel then it needs to mean a chance to make money. This guide will share some of the recent developments in the channel and the latest thoughts about the issue.
By submitting your personal information, you agree that TechTarget and its partners may contact you regarding relevant content, products and special offers.
You also agree that your personal information may be transferred and processed in the United States, and that you have read and agree to the Terms of Use and the Privacy Policy.
In his February column, Billy MacInnes made some valid points about resellers and the cloud. Certainly it raises some questions for the channel but are they, as Private Frazer might say, 'doomed'?
I don't believe so. In fact, I think the security-as-a-service model offers the resellers the platform they need to take on service providers and win. What it comes down to is the right technology. You might be thinking, oh of course Cryptocard would say that, but just bear with me for a few moments and I'll explain.
Whatever industry your clients operate in, whether that be government, retail or financial, when it comes to security they all have one thing in common; increasing anxiety about identity theft and how that compromises their data and even reputation.
Every week we read about yet another company has been hacked, attacked or compromised in some way. The growth in mobility, remote working, Bring Your Own Device (BYOD) and putting apps into the cloud is only serving to further compound the problem.
Once a company has suffered a security breach it takes a lot of hard work to win back customer trust and rebuild the business. As a result, customers are looking at their security policies and thinking about how they can develop robust strategies for the modern, post PC era.
Whilst there is more acceptance at a corporate level that cloud technologies should be at the centre of future security strategies, the channel hasn't always had all the right answers. But security-as-a-service is the channel's answer to this challenge.
For example, authentication-as-a-service provides more choice and flexibility about the types of tokens people use to access the corporate network from hardware to soft tokens such as SMS or apps delivered to iPhones, Android or Blackberry.
As a result the process of managing and maintaining authentication, which historically has been a barrier to adoption, has become highly automated. What used to take a whole team of people to deploy and manage thousands of tokens, can now be done by a reseller using their own servers and a small team. For the channel this is the opportunity they've been waiting for; with one single platform they can host their client's authentication infrastructure and scale it as required.
Very few resellers offer end user organisations the ability to remotely manage and configure their security as previously it has been viewed as complicated and expensive. But delivering security over the cloud breaks down those barriers. In the past resellers have worried that the cloud will mean having to find thousands of new customers. Whilst I can't speak for all security services provided over the cloud, I can say that authentication-as-a-service offers excellent annuity revenues and that the centralised management is helping many of the partners we work with to be seen as trailblazers by their clients.
I agree with Billy that whilst the cloud is now an established technology approach, companies will want to work with trusted partners to implement it in a way that is right for their business. This puts the channel on the front foot. What it then needs is the technology that delivers on two fronts. Firstly, it must create a more secure perimeter for their clients (otherwise what's the point?). And secondly it must deliver for their own business, allowing them to drive revenue and be competitive.
The cloud doesn't mean the end for the channel, far from it. In fact, it must just reinvigorate it.

Read more on Data Protection Services