Lessons from Zenium and Equinix on how to host
People don't do enough research when buying cloud space – but after two data center trips in a week Nick Booth can see why
One of the ironies of modern life is that the more important a transaction is, the less likely we are to ask questions. Applying a passport is easy, but ask the local council for a parking permit, and they treat you like a terrorist. Similarly, millions of us allowed ourselves to be mis-sold mortgage policies, by unscrupulous banks, but we really do sweat over the small stuff.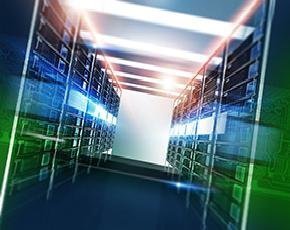 Cloud space, like a mortgage, is one of the most important property buying decisions we'll ever make. And yet, according to new research, few of us put any effort into researching the transaction.
Research for Zenium Technology Partners suggests that only a third (38%) of us even bother to visit the home for cloud. The report Managing Growth, Risk & the Cloud, says that less than half (46%) of us bother to meet the team who would manage the home for our precious data. If you're going to put your loved ones into a home, surely you'd want to check out the people, wouldn't you?
Evidently not. Less than half of us even check the operator's track record and only a third (36%) will conduct credit history checks and investigate customer testimonials.
This does not bode well, according to Zenium, which predicts there will be trouble down the line. The firm has just opened a data centre in Frankfurt, where the customers are much more discerning than in the UK. Germans are far more likely to outsource data to the cloud but much more vigilant about its security. Did you notice, during the World Cup, the German fans were chanting about the NSA? Can you imagine data sovereignty capturing the public's imagination in the UK?
Most (71%) IT professionals are planning to use cloud services, concludes the report, but the not many can find the time to inspect the facilities. "Considering the value companies put on data, these figures surprise me," says Zenium CEO Franek Sodzawiczny.
It's important that buyers meet and shake hands with the poor pale, half man half desk creatures who will spend their lives in the imprisoned in the facilities, minding their servers. Sodzawiczny says it's like gambling with their most valuable assets.
Having said that, I can understand why people don't visit data centres. Last week I visited Zenium in Frankfurt and the new Equinix 'London' facility' LD6 in Slough.
Lovely though the people of both companies are, I can never shake the feeling that with every data centre visit I make, another chapter of my life has ended dismally. What worries me about dying is that, just before the lights go out and all the events from my time on earth flash before me, there'll be about 30 data centre tours I'll have to witness all over again.
Not many people want to visit a data centre, especially not one in Slough (a town that, according to Google, seems to be twinned with both Despond and Despair). But data centres are going to be crucial to the channel, so selling a data center is going to become a crucial skill.
To be fair to both Zenium and Equinix, they seem to have made an effort to jazz them up a bit. Zenium's Frankfurt facility features some very fanciful décor – even the uninterruptible power supplies are a lovely shade of pink. Harriet Harman would love it.
Equinix has done even better, with a facility that estate agents would describe as bright, airy and deceptively spacious. It's very energy conscious, uses free cooling and there are no ugly solar panels.
They seem to know how to sell a data centre too, as the day we visited there were armies of corporate IT managers – from big banks and high street retailers – all knocking back the champagne and vol au vents. The art of the data centre tour is still relatively new, but Equinix seems to have hit on a winning formula for selling them.
Which could make it a useful partner, because Equinix has just launched a reseller recruitment programme, as it seeks a channel to sell its hosting facilities. The Equinix channel will include everyone from consultants to cloud service providers.
Equinix's big selling point for the channel is that it's good at hosting. Not just server hosting (anyone can do that) but the other, increasingly important kind - hosting data centre tours. Take it from me, that really is a job you will want to outsource.
Read more on Enterprise Storage Management