Is channel conflict an inevitable result of innovation?
Recent CompTIA research looked into the thorny issue of channel conflict with Vaughan Shayler, director, channel strategy, sharing the findings
One of the most difficult challenges for a channel vendor is dealing with conflict with its channel partners. One of the biggest tests involves the procedures used to enforce the agreed rules of engagement, ensuring that both parties feel fairly treated and the relationship is worth continuing.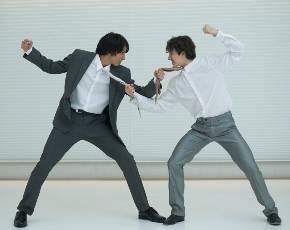 When those bonds of trust are strong, collaboration and productivity between the parties are sure to flourish. For the most part, providers will do all they can to promote and sell their suppliers' products and services. Similarly, vendors typically focus more of their resources on the partners who deliver above and beyond on their commitments. Volume is often a key qualifier, but with the shift to cloud and managed services, many suppliers do recognise the value that even their smallest providers can bring to the table. Solution provider incentive programmes serve as a great example of that philosophy, where vendors provide enticements to partners who employ more of that particular supplier's equipment in their projects.
Those harmonious relationships are what every channel company strives for. While that objective can be challenging enough when the vendor is entirely committed to their channel, with little or no indirect sales, the situation becomes more problematic when the supplier has a highly competitive sales team targeting some of the same markets as their partners. If the rules are not spelled out clearly to prevent solution providers from viewing their vendors as potential business threats, their relationship status will be in constant jeopardy.
While many business alliances go through bad patches, the collaborative power of these affiliations must be strong enough to overcome the adversity. When channel conflict increases and solution providers see their revenue opportunities decrease due to competition from their own vendor partners, the long-term value of those relationships may be lost. Regardless of the reasons behind the dispute, neither party benefits from the fallout when programme guidelines are not adhered to or give the appearance of not being followed. Perception is everything in the business community, so vendors and providers must keep the lines of communication open to prevent misunderstandings and ill feelings.
That is a key reason for addressing potential channel conflict issues before they inflict harm on partner relationships, a point of concern mentioned by many respondents in the CompTIA Third Annual State of Channel Study: Channel Conflict and Deal Registration Trends. In this recently released study, researchers noted how economic conditions, new technologies and innovative sales methods are contributing to increased engagement disputes between vendors and their channel partners. With an independent research company assisting in the survey of 350 IT companies, the CompTIA team discovered several rather concerning trends that are having a negative impact on partner relations. Results of the study include:
Eighty percent of providers indicated that channel conflict has negatively impacted their businesses in the last two years, with 21% of respondents indicating the consequences as "major."
Sixty percent of partners believe the vendor community's increased focus on direct sales is the result of changes in the customer dynamic. End-user demand and choice may be a major factor in the transition away from the indirect channel, as suppliers look for new ways to connect with customers for future product and development and to gain other valuable insight.
Almost 40% of respondents have increased their own services capabilities to counter channel conflict. This also allows providers to improve incremental sales margins and develop closer customer relationships.
Thirty percent of partners indicate they have severed vendor relationships in the last year due to channel conflict. Whether countering a single instance or pattern of concerning behaviours, approximately a third of the study respondents have offered a competing vendor's products to at least one of their customers after encountering a direct sales conflict with another supplier.
28% of the channel firms indicated that most of their vendor partners strategise and communicate with them on a regular basis, but only 18% believe their suppliers have adequate controls and procedures in place to avoid conflicts with direct sales teams.
While those findings speak to an extremely low level of trust between channel partners, the survey results could be used to inspire deeper discussions between vendors and solution providers. It's in everyone's interest that partners obtain the information they need. If suppliers need to break down communication barriers a mutually beneficial resolution should be devised, for example through customer focus groups or surveys, or through online forums and company newsletters.
To learn more about the study, go here.
Vaughan Shayler is director, channel strategy, at CompTIA.
Picture credit: Altrendo Images
Read more on Salesforce Management