In the Palm of HP's hand
Hewlett-Packard suddenly buys Palm.
Crikey.
Well, there I was, sitting down with my dinner on my lap and last weekend's Doctor Who on the telly, when Hewlett-Packard suddenly bought Palm.
I have to hand it to them, that was not one that I was expecting. Something was obviously going to happen to Palm, and several other firms were linked to loss-making Palm in the past few weeks, including handset builder HTC, which walked away after looking at Palm's books. Huawei and Lenovo are also understood to have declined to cut a deal.
But HP was not among the suitors, so what is it up to? Let's take a closer look.
Without a doubt, it is Palm's operating system, webOS, that took HP's eye, everyone seems to agree on that. The phones seem like a bit of a sideshow in comparison, and HP has already done well out of its iPAQ line.
HP's PSG EVP, Todd Bradley, appeared to confirm that during Wednesday evening's conference call, saying: "We anticipate that with the webOS we will be able to aggressively deploy an integrated platform that will allow HP to own the entire customer experience, to effectively nurture and grow the developer community and to provide a rich, valued experience to our customers."
"With more than 2,000 applications* and growing, this platform and the Palm developer programme are gaining momentum. With HP, given the financial commitment we intend to make to this operating environment, we expect this pace to accelerate," he added.
But HP has other irons in the fire besides the newly acquired webOS, one of those being with Microsoft.
HP's upcoming Slate ( pictured) will run Microsoft Windows 7 and by getting behind another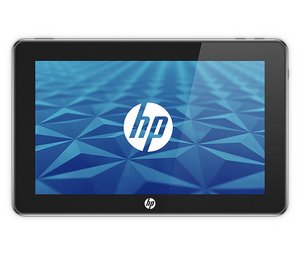 OS there is every chance Redmond could get hot and bothered.
Analyst Richard Holway at TechMarketView today wrote: "The logic would have been for HP to build a smartphone around Microsoft Mobile. Logic would say you would use the same OS in a smartphone and a tablet."
iSuppli's Tina Teng makes a further interesting point vis-a-vis Palm versus Apple, saying that while Palm has made limited headway in the smartphone market to date, its Pre smartphone offers "significant advantages" compared to the iPhone.
"Palm's webOS appears to be superior to the Mac OS X used in the iPhone in the crucial area of multitasking capabilities," says Teng. "This is a key point of differentiation, combined with the product's multi-touch display."
Now, I don't think HP has Apple in its sights for one minute. But Palm has impressive heritage in PDAs and with HP backing it up, I'll hedge my bets and say we could eventually see the emergence of a significant competitor, but only as a side effect.
Another question that must be asked is whether or not this deal will upset Cisco?
No, it won't.
Admittedly, the timing couldn't be much worse for Cisco, which is currently churning out a whole bunch of channel initiatives at its summit, but then there's no love lost between those two any more. Merely scheduling their partner conferences against each other showed that.
If anything, I would expect John Chambers to be feeling pretty relaxed about this; it vindicates pretty much everything we know he is into and I dare say he'll relish the challenge of responding.
Cisco doesn't have a smartphone. Yet.... But check out Jim Duffy's Cisco Subnet Blog from a few weeks ago, which certainly seems to suggest one is in the works. And earlier in the week we saw the idea of a Cisco tablet device running Google's Android OS being thrown around.
None of this answers the big question with regard to Cisco, which is whether it will choose to develop or acquire. You can make up your own minds, but I'll be watching that angle with interest.
*By comparison, Apple has over 180,000 apps available for the iPhone, and Android has somewhere in the region of 50,000, so there is some work to do here.
Read more on Network Infrastructure Solutions and Services