Five minute interview: John Sollars, Stinkyink.com
This week, John Sollars, managing director of printer inked toner cartridges dealer Stinkyink.com takes to the hot seat to answer MicroScope's probing questions. What is the best/worst advice you have received and from whom?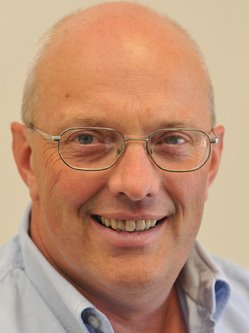 This week, John Sollars, managing director of printer ink and toner cartridges dealer Stinkyink.com takes to the hotseat to answer MicroScope's probing questions.
What is the best/worst advice you have received and from whom?
The best advice was from my Grandad who told me: "You'll never make any money unless you employ people". Possibly the worst was from my son who told me that I'd never make any money selling ink!
What is the best book you've ever read?
Jamie Oliver's Ministry of Food; I cook from it every week. It is the best cookbook in my opinion for unqualified chefs with easy, non-pretentious recipes.
Tell us something most people do not know about you
I can touch type and also am fluent in Morse Code.
What temptation can you not resist?
My homemade cheesecake (Jamie's recipe - see above).
What is your most elusive goal?
To be a good golfer. You'd think it would be really easy to hit a small ball that isn't moving in a straight line!
Where is the one place you'd like to visit before you die - and why?
Tahiti, following in the footsteps of Captain James Cook; apparently it is home to the most beautiful women in the world!
Which bit of technology would you want with you if you were stranded on a desert island - and why?
It depends on what sort of desert island; if it is lush and beautiful and full of helpful locals - none! If on the other hand it was rough and tough and had nobody there; a shortwave radio to summon help.
If you were shipwrecked, who would you like to have with you and why?
Jamie Oliver, just because he always comes over as a nice guy and he could certainly rustle up some interesting grub with whatever ingredients we could find.
Who helped you get to where you are today?
My family, who put up with me through two business failures and then in the start-up phase of Stinkyink.com when I was working 12 hours a day, 7 days a week for 18 months.
What was your first car and how does it compare with what you drive now?
An Austin 1100 that I bought with my winnings from the Gibraltar Casino - all of £75! There's no comparison with my current car, a Mercedes SLK 350, except that they both have four wheels.
What do you believe in most?
You make your own luck by hard work, awareness of what is happening around you and being ready - I have often been called a 'lucky bastard'.
Do you have any pets? If so, what are they and what are their names?
I've got two dogs, a Springer spaniel called Ben and a working Cocker spaniel called Ozzie. Not named after Ozzie Osbourne, but Ozymandias 'King of Kings - look upon my works ye mighty, and despair' - he's a hell of a dog!
Who would you least like to be stuck in a lift with?
When I was a young man, I studied marine radio at Plymouth Polytechnic, which by the nature of the beast (aerials and stuff) meant that we were on the 8th floor, and by the nature of being a student meant that we caught the lift. In the early '70s we had a large foreign student population and we all dreaded being in a slow lift to the top with them because they smelled of GARLIC which was totally unknown to us and stank the lift out!
Describe yourself in one sentence
I am a nice guy, who believes in treating people as I expect to be treated: with politeness and respect. I don't judge people until I know them well. And I try to be emotionally very level without too much excitement (except when the Wolves score!), or disappointment.
Why are you good at your job?
I am very committed, very focused and very, very hard working.
If you could be any animal for a day, what would you be?
My dog Ozzie: he's got it made - in a doggy sort of way.
Do you prefer cities or the countryside? Explain why
I'm a country boy. I live and work in sunny south Shropshire and only venture into the city when the lure of football on a Saturday afternoon can't be resisted anymore. That would be every fortnight during the season!
Describe your perfect night out
After watching Wolves win at home, going to a good Italian restaurant, lashings of red wine, big table full of (noisy) friends and family.
What would be your perfect holiday?
I love the Greek islands, so one of those small yachts cruising the islands for a couple of weeks would be paradise.
Sum up the IT channel in one sentence
Vibrant, constantly changing, exciting, the place to be involved and working in.