Five minute interview: Henry West, Eclipse Internet
In the first of our new Five Minute Interviews, Henry West, head of reseller channel at business ISP Eclipse Internet, takes a turn in the redecorated MicroScope confessional.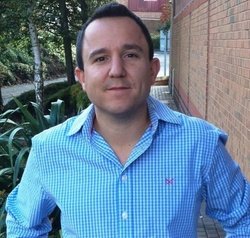 In the first of our new Five Minute Interviews, Henry West , head of reseller channel at business ISP Eclipse Internet, takes a turn in the redecorated MicroScope confessional.
Tell us what you do for a living
I head up the reseller channel for Eclipse Internet, making certain our partners have the tools and support to add value in every aspect of their customer offering.
Why are you the right person for this job?
I have the experience, insight and passion to successfully drive our channel forward and it's already happening. I'm also just a people person, interacting with people is probably what Iím best at. I believe very strongly in the importance of good communications and building business relationships based on trust.
What gets you up in the morning?
My dog needing to go out for his morning constitutional? In truth, I donít have any problem getting up for work and I've got no time for slackers. The office is a really buzzing place though I'm travelling around a lot of the time, meeting partners all over the country.
Who helped you get to where you are today?
Over the years, there are a number of figures in the IT industry I have looked up to and tried to emulate. I also have three older brothers who are all successful in their careers, and that has always encouraged me to be competitive and succeed at what I do.
What is the best or worst business advice you have received, and from whom?
Best: You can't grow what you can't measure.
Worse: Build it and they will come. Can't remember who said it but whoever it was they were too complacent about demand.
What advice would you give to someone starting out in IT?
Ask the customer what they want, rather than assume you know. And be hungry to win; in this day and age you have to be prepared to go above and beyond what is expected to succeed.
Will Windows 8 be the new XP, or the new Vista?
You might be asking the wrong guy here. Whatever Microsoft punt they'll make a shedload of money doing it I'm sure.
What does the next five years hold for the channel?
As bandwidth speeds accelerate and costs come down, there is a huge opportunity to deliver a host of applications and services to your customers. Just make sure you have a business class ISP that cares about excellent technical support backing you up, as the reliance on connectivity will only increase!
Tell us something most people do not know about you
I grew up on a farm in Somerset, so can hotwire a Massey Fergusson in a matter of seconds and have quite a high tolerance to cider.
What goal do you have to achieve before you die, and why?
Enjoy life and be happy, you only get one go!
What is the best book you have ever read?
Why read when you can watch it all on TV? The Bourne Trilogy (Identity, Supremacy and Ultimatum) are great films, so they must have been great books!
And the worst film you have ever seen?
Anything that my girlfriend chooses!
What would be your desert island MP3s?
Anything that's chilled out and acoustic to be honest. At the moment, I really like Ceelo Green but some classic Oasis is always good to hear.
What temptation can you not resist?
Texting my best mate when his football team loses.
What was your first car and how does it compare with what you drive now?
I was hoping you would not ask this as I get a lot of stick for having an Audi TT. My first car was a Mini though.
Who would you least like to be stuck in a lift with, and why?
I'm a people person, so I'd put up with anyone (who didn't absolutely stink).
If you could be any animal for a day, what would you be and why?
A Lion. I want to be King!
If you could represent Great Britain (or your home country) at one event in the 2012 Olympics, which would you choose and why?
I'd choose the 100m sprint, because it's pretty much the most popular and prestigious event in Olympic sport. Who wouldn't want to be known as the fastest person in the world?
If you were facing awesome peril and impossible odds, which real or fictional person would you most want on your side and why?
MacGyver - my childhood hero. He could get us out of any scrape with his practical application of scientific principles... oh and his Swiss army knife.
A grizzly bear and a silverback gorilla are getting ready for a no-holds-barred rumble. Who is your money on and why?
The grizzly bear, as they are the most aggressive, especially if they are just about to sit down for their lunch at the time!
Read more on Network Infrastructure Solutions and Services