Five Minute Interview: Neil Crockett, Cisco
Neil Crockett, managing director 2012 at Cisco UK & Ireland, takes the hotseat for our Five Minute Interview.
Tell us what you do for a living
I lead the London 2012 team at Cisco. It's the first time Cisco has sponsored the Olympics or any other major global sporting event.
Our sponsorship includes delivering a mission-critical network infrastructure for the Games. Part of my role is to deliver marketing around the Games and Cisco House to build our brand and showcase why the network as a platform is centrally relevant to country, city and business transformation.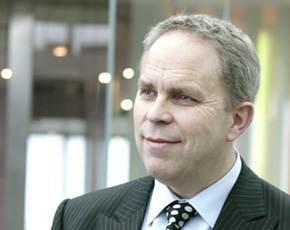 In the long term, we also see the Games as a great opportunity to make Cisco a brilliant place to work, as well as starting a programme for a five-year Olympic legacy plan to encourage skills, innovation and the growth of the UK digital sector.
Apart from that, things are fairly quiet at present!
Why are you the right person for this job?
I am passionate about the Olympics and Paralympics, I am passionate about Cisco, and I am passionate about building great teams.
I like solving complex multi-discipline problems – and once I've started I am hard to stop. Probably most importantly, I believe in, and try to apply, the power of humour and diplomacy.
What gets you up in the morning?
At the moment, a cocktail of adrenalin and strong builders tea.
Who helped you get to where you are today?
The wisdom and support of my family, the sanity of great friends, and having the good fortune and sense to listen to some amazing mentors, colleagues and customers – plus a large dash of hard work.
What is the best or worst business advice you have received, and from whom?
Just before I made my choice on my first job, someone told me: "Neil, you would make a great auditor."
What advice would you give to someone starting out in IT?
Build your knowledge as widely as you can; listen, watch and learn from the top talent; build a strong personal network; and get as close to the customer as you can.
Will Windows 8 be the new XP, or the new Vista?
I'm not sure it's really an important question in a post-PC era, where it's all about a diversity of devices, and platforms and operating systems increasingly sit in the cloud.
What does the next five years hold for the channel?
Huge opportunities for those who recognise and take a proactive approach to the many market transitions in areas such as cloud, the data deluge, bring-your-own-device and video.
Tell us something most people do not know about you
I am on the GB Board of Co-operation Ireland, the largest Irish peace charity.
Life is not about having one goal or dwelling on anything to do with dying; it's about living and not missing the opportunities still to come
What goal do you have to achieve before you die, and why?
What a depressing approach to life! It's not about having one goal or dwelling on anything to do with dying; it's about living and not missing the opportunities still to come.
What is the best book you have ever read?
Porterhouse Blue or Wilt by Tom Sharpe – tear-rolling laughter is hard to beat.
And the worst film you have ever seen?
The Cook, The Thief, His Wife & Her Lover – I normally love Helen Mirren.
What would be your desert island MP3s?
Stormy Monday – Cream (Live); Little Wing – Stevie Ray Vaughan; Shine on you crazy diamond – Pink Floyd; Since I've been loving you – Led Zeppelin; Tired of being alone – Al Green; Life on Mars – David Bowie; With or without you – U2; Pencil full of lead – Paolo Nutini.
What temptation can you not resist?
A late-night Bushmills (one rock).
What was your first car and how does it compare with what you drive now?
Vauxhall Viva – it was much slower.
Who would you least like to be stuck in a lift with, and why?
Keith Lemon – he is a real bore because it's all about him.
If you could be any animal for a day, what would you be and why?
A polar bear. They are majestic and fear nothing – and I have always wanted to meet David Attenborough.
If you could represent Great Britain (or your home country) at one event in the 2012 Olympics, which would you choose and why?
Hockey – the sport I loved and spent most of my time playing in my late teens and early twenties.
If you were facing awesome peril and impossible odds, which real or fictional person would you most want on your side and why?
Maximus (The Gladiator): "At my signal, unleash hell." What a partner!
A grizzly bear and a silverback gorilla are getting ready for a no-holds-barred rumble. Who is your money on and why?
The bookie – they always win in the end.