Finding some virtual problems
Nick Booth walked the stands at the recent VMworld 2014 event to find out if anyone in the land of virtualisation had any problems to declare
If you want to find out if there is anything that could be better in the lives of those selling virtualisation and associated services then just ask the questions at an event like VMworld. Just be prepared for plenty of football metaphors.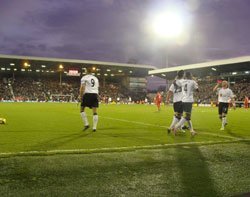 The first example involved Nexenta, which has a problem with Flash. Many enterprises are having to build all flash environments as it's the only way to guarantee high performance levels. And they need them to keep up with the demands of increasingly humungous data. The problem with these all flash environments is that the new vendors are locking customers in to inflexible proprietary systems. "The users aren't getting the benefits of software defined storage," said Thomas Cornely, Nexenta's chief product officer.
According to Cornely's account of events, storage was traditionally like a football team built around old fashioned ideals. It was crude, with a primitive style and all the skill and agility of an old fashioned English centre half. In other words, the team was built for the long ball game, around a star player who could only do one thing. Worse still they were temperamental, inflexible and likely to hold the club to ransom for cripplingly expensive demands and locked into a long contract.
Nexenta is like one of those modern tippy tappy continental outfits, with a much more fluid style. Plus it's team is built around the software, which is more of a captain than a star player. Which means the software is a great communicator, clever tactician and adept at getting the best performance out of all the other players in the squad.
The upshot is that Nexenta has a problem with the 60 point margins being made on flash arrays by some resellers. It wants to change the game so that end users get a better offering from Nexenta's partners. "Now you can build high end systems at much more competitive prices," said Cornely.
Being all flash isn't a problem if you get it re-integrated, insisted Prabu Rambadran, Nutanix's senior product marketing manager. Its new NX-9000 hardware will solve the problems created by virtualization and cut the latency thtat's creeping into critical systems running Oracle and SQLServer. "Our partners have encouraged their clients to deploy all-flash arrays for these applications. Sadly, this leads to the creation of more storage silos and skyrocketing operational costs but a hyper-converged platform provides a better approach to all flash storage."
Dr Keiran Harty, founder of Tintri, was another man with a problem with virtualization – and he was VMware's head of engineering for seven years. "Many companies have just bolted flash onto old systems," said Doug Rich, Tintri's VP for EMEA. As a consequence of buying flash that they can't manage properly, they don't get value for money. Which means that each of all those thousands of virtual machines they create is wastefully run, because there isn't the level of detail available to diagnose problems or apportion resources, such as storage. Harty recognised this emerging problem with virtualization and created a system that allows companies to run their virtual assets far more cost effectively. The key to doing this is improving the vision of the entire playing field – which in this case means every storage receptacle. "Buying flash is like adding a fast winger to your team, only to find they can't catch the ball and even they did, they've got no sense of direction," said Rich.
With 70% of new apps being targeted at a virtualisation there's no point trying to resist the stranglehold of the modern game, which is why Tintri has now decided to focus all its efforts (and its channel's efforts) on the virtual storage opportunities.
The IT manager at Oxford University is another person who had a problem with time wasting in the modern game of virtualization. The 26 colleges that make up the collective we know as Oxford University each have a distinct character. Each college has its own IT environment and the creation of a private cloud (using Cloud) to unify them didn't solve all the inefficiencies of running these disparate systems. Centralised backup proved to be a massive time waster, because it was far too blunt an instrument for the detailed operation that needed to be carried out.
There are thousands of virtual machines now. If one single machine was destroyed, it is madness to have to restore the entire lot – and yet that was the wasteful disaster recovery exercise that virtualisation demanded. You really don't want Oxford University to have a problem with virtualization. Luckily, virtual storage specialist Acronis had an On Cloud solution. "The problem is that few companies have got both a good backup strategy and a good cloud offering, as most of them came from one of those backgrounds, but not the other," said Daniel Model, Acronis's manager of sales offerings.
Read more on Storage Virtualisation Solutions and Services