Comtek takes green network crusade to parliament
Comms and networking repair services house Comtek, which you may recall we wrote about last November, has taken its campaign for a more environmentally sound approach to the nuts and bolts of the network to the Houses of Parliament.
Comms and networking repair services house Comtek, which you may recall we wrote about last November, has taken its campaign for a more environmentally sound approach to the nuts and bolts of the network to the Houses of Parliament.

Download this free guide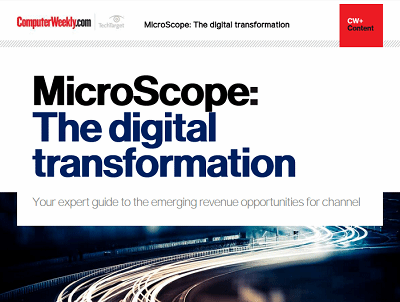 Emerging revenue opportunities for the channel with digital transformation
Digital transformation is a phrase that means many things to many people but for it to have any real relevance to the channel then it needs to mean a chance to make money. This guide will share some of the recent developments in the channel and the latest thoughts about the issue.
Last week the north Wales-based firm, which bet big on market demand for upkeep on legacy Nortel installations following the vendor's bankruptcy, played host to a line-up of industry leaders and MPs at its 'Reuse, Repair and Reduce' seminar, hosted by Mark Tami MP.
Setting out the agenda, Comtek CEO Askar Sheibani called on the government to bring in practices to encourage organisations to sweat their network assets.
"Our policy makers in Government are in a position where they can change perceptions, change practices and make a difference to the mounting problem of E-waste," said Sheibani.
"As a business we can make a change by creating local jobs, by training staff and being a source of development. However, to make a real difference, we need to see a total shift in our business culture. Sustainability shouldn't start and end at building more environmentally friendly solutions, policy needs to be created which encourages organisations to make the most of their existing IT assets and to think twice before shelving perfectly usable solutions."
Catalina McGregor, former government green ICT advocate and now working with UN ITUT, said that the entire product life cycle was still "poorly calculated" in terms of both CO2 and pollution levels.
"We are at a stage where we need to accept the integrated technoprint of mining, manufacturing, shipping and packaging is significant but we cannot afford to ignore the intensive footprint associated with using the web and our mobile networks," she said.
"The leaders driving the refurbishment and recycling sectors don't realise it yet, but they have dynamically changed the IT and communications sectors towards longer life products and are saving immeasurable pollution.
"It's time for representatives of the refurbishment sector to raise their game even higher, because the Green Economy Council has just been formed by the Rt Hon Dr Vince Cable MP, Secretary of State for Business, Innovation and Skills bringing together ministers from three government departments BIS, DEFRA and DECC who will set in motion our next stage of progress and planning."
Gary Griffiths, RDC Head of Sustainability and Chair of BIS WEEE Reuse Working Group provided insight on PAS 141 - the new standard for the reuse of used and waste electrical and electronic equipment.
"WEEE contains all sorts of hazardous material, so the more we can keep out of landfill, the better. Reuse is said to be 20 times better than landfill according to the UN University as we save on materials and energy consumed during manufacturing. There is also a tangible and significant carbon benefit to reuse as the manufacture of IT is a major contributor to carbon use.
"PAS 141 is a new government specification due to be published at the end of March 2011. It aims to increase the amount of reuse and assure reusers that equipment is safe after testing. We want to make PAS 141 certification a requirement for all players in the WEEE treatment chain to raise standards.
"Anyone exporting WEEE overseas in compliance with PAS 141 will not be the focus of attention - the illegal exporters will instead find the regulatory spotlight turned on them."
Griffiths also went on to suggest that the Government could encourage reuse by organisations in the UK through awarding carbon credits to organisations that demonstrate significant levels of reuse.
Meanwhile, Miriam Kennet, co-founder and CEO of the Green Economics Institute, explained the green economy and the role that the networking sector can play within it
"Green economics is the economics of doing and the economics of sharing. It asks you to completely rethink the philosophy and the methodology we've applied up to now. What that means in practice is that we need to think about our actions in everyday life.
"We don't have to take the fastest method of transport, we can hold a teleconference instead of an in-person global meeting, we can use open-source software. Ultimately, we can reduce, reuse, recycle and repair and alter our lifestyle to really make a difference in our society, as well as the bottom-line."
Read more on Network Infrastructure Solutions and Services