Bored campers log on to wi-fi
Look, I can't even leave home to go get the Sunday papers without taking my phone with me, so what hope do any of us have for a week under canvas? You might as well give in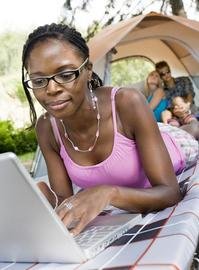 As the tough economic times continue it's no surprise to learn that Brits have turned their minds to more traditional holiday pursuits.
The dreary, media-generated concept of the staycation - I can't quite believe I just typed that word - is nothing new.
Indeed, the renaissance of the camping holiday is now well-established, with ONS figures suggesting 5.43 million camping trips were taken in the UK last year, up 29%.
MicroScope's editor has himself fallen victim to the trend, spending last week in a field in Dorset.
Bitter experience says camping is not for me, and if all these new campers are anything like myself or Simon, they're getting bloody bored and have been looking for new forms of entertainment (you're fired - Ed).
But wait! The new breed of holiday is nothing like the traditional camping trip. You don't even have to look at a knobbly knee if you don't want to.
Just cram the car full of portable DVD players for the kids, iPads and iPhones, and downloading videos off YouTube can take the place of building a windbreak.
BT Openzone has clearly figured out that we are in thrall to our bleeping overlords, and has come to the rescue, with a growing number of Camping and Caravanning sites and Pontins locations now home to an Openzone wi-fi network.
The dastardly enablers at BT have reported a staggering 350% rise in usage on those sites during the first two weeks of the school holidays.
Look, I can't even leave home to go get the Sunday papers without taking my phone with me, so what hope do any of us have for a week under canvas? You might as well give in.
Maybe camping isn't so bad, then? I'm off to Twitpic a clotted cream tea...
Read more on Network Infrastructure Solutions and Services