Avaya speaks out on Flare Experience
Avaya is confident that its industry-first video collaboration experience is being launched at the right time and with the right end-user demand.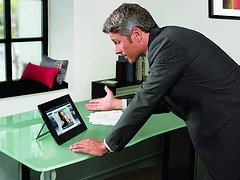 When Avaya launched its innovative Flare Experience in mid-September, Network Noise was just one of many blogs to cover the news.
In a new guest blog, Avaya's EMEA director of product and solutions marketing Nigel Moulton responds to some of the points made in my original piece, and puts across Avaya's view on where the Flare Experience should be positioned and marketed.
When Avaya launched the Flare Experience on 15th September we were confident that it would generate a fair amount of media interest, writes Nigel.
After all, a cool set of technologies aimed at the unified communications market was always going to generate significant interest and stimulate debate.
But, as with any new experience or product, people can interpret the future potential in a variety of ways. For example, I read the Network Noise blog on MicroScope with particular interest.
Alex concluded that the product is 'cool' and that he's 'excited to see how it performs', but also questioned whether we had missed something by not focusing on mobility as a major selling point and also whether there is truly a market for the product.
In response, I think it's worth highlighting at this point that what Avaya actually launched on 15th was the Flare experience.
To be clear, the Flare experience is a family of real-time enterprise video communications and collaboration technologies that deliver a simpler and more compelling end user video collaboration experience.
This experience is available on a choice of end points - the desktop video device being just one of them. And so, strictly speaking, the device announced was just one component of an entire set of technologies which will form this unique experience. So let's not get hung up on the device too much, let's look at the whole Flare experience - why is it so significant for the industry?
The experience is aimed fairly and squarely at a simple pain point for end users. And that is that current video collaboration solutions are neither user nor IT-friendly.
Why? Because they often require separate networks, are bandwidth-intensive, expensive and require participants to accommodate to time, location and support personnel availability to engage in a video-enabled collaboration session.
How many times have you heard colleagues bemoan the fact that the first 20 minutes of every video conference is spent just getting the technology to work?
In all the conversations I have with end users, I never hear about a lack of desire to use video conferencing technology. But there is often frustration that the solutions available are not easier or more cost effective to use.
The Flare user experience is designed to change this; we want to make using a video conference call as easy as making a simple phone call. And there's a simple commercial reason for this objective; our research tells us that use of video conferencing will grow rapidly as the cost, ease-of-use and quality improves.
According to a recent survey, respondents expect the number of users who will make frequent use of videoconferencing to explode by 400%.
To address Alex's points specifically; we are not playing in the consumer or mobile market here. Apple and others are doing a very nice job of that already.
What Avaya is trying to do is to make video conferencing and collaboration more accessible to a wider range of employees in a wider range of enterprises by providing a high end, intuitive, user-focused experience that does not require IT manager support. In addition to reducing costs massively for organisations, it also uses significantly less bandwidth!
The launch of the Avaya Flare Experience, then, is a bold and aggressive step which is designed to see us meet this explosive demand.
We have certainly been overwhelmed by the positive reaction so far and, in conjunction with our channel partners, we're confident that this industry-first video collaboration experience is being launched at the right time and with the right end-user demand.
Read more on Network Infrastructure Solutions and Services