Reseller remakes Snakes on a Plane
One reseller-turned-amateur pilot on the Czech Republic has come up with a novelidea for a spot ofcross channel marketingactivity. The GFI Software reseller wrangled permission from his local airfield to decorate some of their Cessna light aircraft with the logos of its flagship antivirus product, V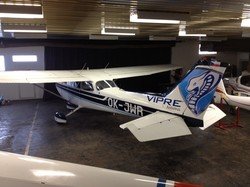 One reseller-turned-amateur pilot on the Czech Republic has come up with a novel idea for a spot of cross channel marketing activity.
The GFI Software reseller wrangled permission from his local airfield to decorate some of their Cessna light aircraft with the logos of its flagship antivirus product, Vipre.
The rebadged Cessna 172 took to the air over central Europe on 14 February.
Sadly GFI's channel programme is not clear on whether or not it includes co-marketing funds for aerial promotion.
Still, it can't really do any worse than the 2006 Samuel L Jackson vehicle Snakes on a Plane, which despite a massive surge of online interest before its release failed to impress at the box office.
Mainly because it was a terrible, terrible movie.
MicroScope+
Content
Find more MicroScope+ content and other member only offers, here.