Five minute interview: Duane Jackson, KashFlow Software
MicroScope puts its questions to Duane Jackson, CEO of London-based KashFlow Software
MicroScope puts its questions to Duane Jackson, CEO of London-based KashFlow Software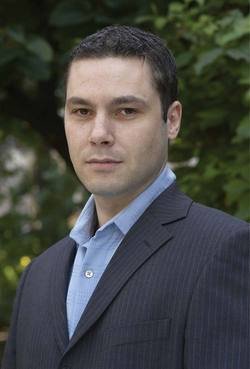 What is the best/worst advice you have received and from whom?
Best: "Never assume." From various people. Worst: "Interest rates will only go up, get a long fixed-rate mortgage." In 2007, from a mortgage adviser.
What is the best book you have ever read?
The Diamond Age, or A Young Lady's Illustrated Primer by Neal Stephenson.
Tell us something most people do not know about you
I like Simply Red's music - their old pre-Stars stuff anyway. Please don't tell anyone.
Do you have any pets?
I would love to have a dog - a Labrador. But we have found out the hard way that we are not a family that gets on with pets. Even goldfish don't last long. I think I like the idea of having a pet more than the reality.
What temptation can you not you resist?
White chocolate. It is not just for kids. Or maybe I am just a big kid.
What is your most elusive goal?
Taking a large dividend from my company. There always seems to be some project or other that tempts me to reinvest the profits.
Where is the one place you would like to visit before you die? And what do you just have to do before you die?
These two questions worry me. Do you know something you should be telling me?
Which bit of technology would you want with you if you were stranded on a desert island?
My laptop. I could quite happily pass a few weeks in solitude if I were able to do some programming. I would like to have a salt-water-powered generator too as the battery would not last long.
Who helped you get to where you are today?
My business partner, financial backer and mentor: Lord Young. Without his guidance and faith in me, I would not be where I am now.
What was your first car and how does it compare with what you drive now?
I don't have a driving licence. I have never found the time to learn. I remember buying a beat-up old Peugeot about six years ago when I convinced myself I would find time to learn. I am pleased to say I made a profit when I sold it.
What do you believe in most?
If you don't ask, you don't get.
If you could be someone else for a day, who would you be?
Anyone, as long as it is only for one day. I quite like being me and having the life I have now.
Who would you least like to be stuck in a lift with?
Someone who talks a lot but says very little.
Describe yourself in one sentence
One word would do: impatient.
Why are you good at your job?
As the CEO of the business, it is my ability to see the big picture without getting lost in the detail.
If you were shipwrecked, who would you like to have with you?
My six-year-old daughter Aaliyah. She always keeps me entertained with the funny things she says.
Name three items (smaller than a fridge) that you would like to have with you if you were shipwrecked
A Sony Reader loaded with lots of books, root beer and a mini fridge.
If a grizzly and a silverback gorilla decided to have a no-holds-barred fight, which would you put your money on?
Whichever one you will give me the best odds on. If I am going to take a risk, I want the chance of a worthwhile return.
If you could be any animal for a day, what would you be?
Not the grizzly bear or the silverback gorilla that are preparing for a no-holds-barred fight. I prefer a quiet, peaceful life.
Describe your perfect night out
It is a cliché, I know, but good food, good drink and good conversation. No dancing, though. I don't do dancing.
What would be your perfect holiday?
Hopefully the one I'm about to go on. Two weeks in Cuba with my wife and daughters after not having had a holiday last year. It would be more perfect if I could convince myself it is okay to not check my e-mails for the whole holiday.
Sum up the IT channel in one sentence
Changing rapidly because of SaaS, but full of opportunities for the same reason.
MicroScope+
Content
Find more MicroScope+ content and other member only offers, here.