The danger of rising prices
HP's CEO admitted that as a result of exchange rates it will have to adjust prices but what if its competitors decide against it is a question on the mind of Billy MacInnes
US vendors with a strong presence in Europe are starting to feel the effects of the euro's rapid deteroriation against the dollar since the start of 2015. But while it's definitely down, the euro has been lower. Back in October 2000 it fell as low as $0.82.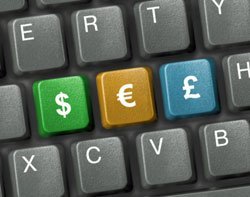 It's fair to say, the euro has had a mixed history against the dollar. It traded at $1.17 when it first appeared on 1 January 1999 and peaked at a high of $1.6 in July 2008. After that, the currency steadied around the $1.2-$1.3 level in 2012. For most of 2013 and 2014, it was trading at $1.3 or above, but then it started to drift down closer to $1.2 in October 2014. By the end of the year it was down to $1.21 compared to $1.37 at the start of 2014, that's a decline of almost 12%. As of 26 February 2015, it was at $1.13, 17% lower than it had been on 26 February 2014.
Faced with lower revenues from Europe because of this situation, vendors are starting to suggest price rises may be in order. HP CEO Meg Whitman has been vocal about the effects of currency fluctuations, arguing that HP feels them more deeply than many US companies because 65% of its revenue come from outside the US and half of that figure is from Europe.
She estimates currency fluctuation "equates to approximately $3.3bn in revenue, $1.5bn in operating profit, or $0.60 in earnings per share. We believe we will be able to manage half of that through re-pricing and cost actions, but estimate a negative earnings impact of approximately $0.30 per share, entirely due to currency".
Whitman told analysts the vendor was "working hard to offset these impacts through repricing and productivity, but let me be very clear, fully mitigating currency movements of this size would require reducing investments in areas like innovation, key systems and tools and placement of printer units that simply would not be the right thing to do".
HP has already raised prices in Europe to try and mitigate the effects of the dollar's rising value. If the euro keeps on sliding against the dollar, it may have to do so again. This is unlikely to prove popular with customers on this side of the Atlantic. Other US technology companies with a strong sales presence outside their home territory are likely to face the same issue. Can they take the revenue hit if sales outside the US generate fewer dollars for headquarters? If they were profitable and growing, it might be easier to do so. But vendors like HP are struggling as it is and can ill-afford to absorb the additional hit to revenue of a weakening euro.
The problem for HP is that while it may have no choice but to increase prices, customers may feel they have a choice not to pay them. At a time when the vendor is embroiled in a major reorganisation due to lead to a formal split of its operations into two separate companies, the last thing it can afford to do is to drive customers away. It has to hope most of its competitors find themselves in a similar position and are forced to raise prices as well. If not, it could find customer fluctuations are even worse than currency ones.