So how did you spend your Sunday?
Second blog post from Epson about the team of riders that undertook the London to Brighton bike ride.
Sunburn, a village fete, and the steepest hill known to man - Team Epson UK's eventful 54 mile bike ride from London to Brighton

As you probably know, Team Epson UK spent Sunday 17 June taking part in the BHF London to Brighton bike ride. All 54 miles of it. Here, the Communications Team's own Gareth Jones tells his story about the day and what it was like taking part.

Start as you mean to go on
"With the recent bad weather deciding to take a holiday, at 8am a cautious sun poked its head out from the clouds to wave hello to the thousands of cyclists on Clapham Common; some dressed head-to-toe in professional cycling gear and some in all manner of fancy dress outfits. Our team was part of that crowd, proudly draped in our Epson team colours, ready to take on the challenge ahead of us.

"Soon after the ride began, an ambitious goal of reaching Brighton by 1pm was soon abandoned as we were caught up in a sea of cyclists in London's famous 'bicycle-friendly' roads. As we edged our way through surprisingly-heavy Sunday morning traffic, any hopes of a quick start were thwarted by impatient bus drivers, oddly-placed traffic cones and angry race marshals with their 'KEEP LEFT!' bellows.

Hills, spills and thrills
"Once out of London, picking up speed was much easier along the country lanes. Every hill and steep climb that proved a challenge along the way rewarded us with many chances to pick up speed down the descending slopes and a much needed adrenaline rush.

"Around 30 miles into the ride, one steep hill ended with a small village fete at the top. Here local church parishioners handed out free tea and coffee while enthusiastic villagers cheered us on, quizzing those that stopped for a breather on how the ride was going.

Hill climbing, sunburn and more hill climbing
"Throughout the day, the sun seemed to become a little bolder, staying out for longer periods each time, before retreating back behind the odd cloud. This intermittent sunshine gave some riders a bad, but admittedly comical, case of sunburn, evidenced by a few red faces and t-shirt tans. In hind-sight, my choice of long sleeved t-shirt and cycling gloves were a bad choice as I was rewarded with watch strap sunburn on each wrist.

"Towards the final section of the ride came the infamous Ditchling Beacon; one mile of road-twisting, upward-climbing, muscle-burning, lung-deflating madness. This torturous section of the ride was by far the steepest, with each bend revealing an even steeper section of road.

"We all began to cycle up but few of us managed to complete it. One highlight was an eager rider playing the Rocky theme tune on his loud speakers as he struggled up the road. Infectious and enthusiastic smiles spread throughout the crowd, with many cheering him on to the top.

"Arriving in Brighton, we were greeted by the gathering crowds at the beach front who cheered us on as we passed the finish line. It was a tough ride, with sunburn, saddle sores and tired legs, but all the cheers and knowledge that we'd raised money for a good cause made the difficult miles worth it.

"It's been a fun ride and, until next year, I'll leave you with a final quote from one team member who wishes to remain anonymous...

"I've just been overtaken by a guy dressed as an inflatable palm tree!"


The team would all like to give a special thanks to Barry Deadman for organising the 'behind the scenes' details, ensuring everyone could concentrate on cycling. A thank you also goes to the team's other sponsors Talkington Bates, Bugbusters, Logistica and Ashenden Recruitment for all their help in making the day run as smoothly as possible.

Final thanks go to everyone who has donated money and supported the team throughout their training, with donations jumping from 75% to 105% in the final four days before the event.

The sponsorship page is still live, so if you want to congratulate the team, you can visit their just giving page at www.justgiving.com/teamepson2012

Download this free guide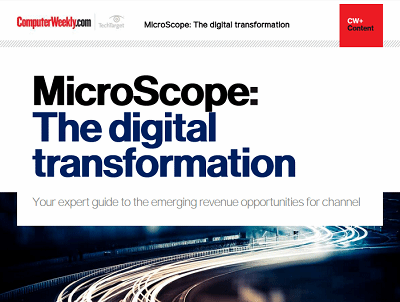 Emerging revenue opportunities for the channel with digital transformation
Digital transformation is a phrase that means many things to many people but for it to have any real relevance to the channel then it needs to mean a chance to make money. This guide will share some of the recent developments in the channel and the latest thoughts about the issue.
By submitting your personal information, you agree that TechTarget and its partners may contact you regarding relevant content, products and special offers.
You also agree that your personal information may be transferred and processed in the United States, and that you have read and agree to the Terms of Use and the Privacy Policy.
Read more on Salesforce Management