Relax, the system's gone down. Nobody is going to die
The idea of perhaps losing some uptime is not one much tossed around the industry but as Nick Booth finds out it's attracting some attention
I love it when IT vendors talk about the 'street price' of their goods. It's evocative of that moment when you emerge from a tube station, and a man approaches you furtively, whispering out the corner of his mouth while his eyes dart hither and thither. "Ere mate, you interested in cloud solutions? I've got private. I can get you public. I can get you hybrid too, but that's extra."
Well laugh no longer, because there really is a 'street' scene and it involves datacentres, of all things.
Datacentre operator IO, is one of the champions of street power for datacentres. It can't be long before the rest of the IT industry starts copying them too.
At the risk of over simplifying, we could describe the central idea of street power involves plugging your datacentre straight into the national grid. You don't need any power management peripherals, like uninterruptible power supplies and emergency generators. Which is a massive saving, as the engineers for these systems are expensive, and the hardware costs hundreds of thousands too.
And, according to Jason Ferrara, IO's vice president of marketing communications, you don't really need them anyway. To date, nobody has dared to question whether they need them, but there's a growing subset of datacentre customers (in other industries they'd be described as a cult) who are. They don't buy into all the idea that you have to have 99.999% reliability for every aspect of IT. Some have even dared to question the conventional wisdom that IT is always mission critical.
Whisper it, but there are even people who think that nobody will die if their IT systems went down.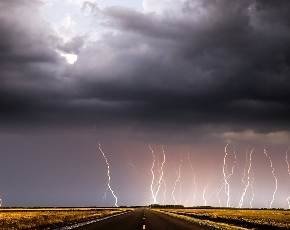 Bitcoin miners, research institutes, big data investigators and even data modellers are finding that, when forced to compare the costs of maximum uptime and the minimal risk of the occasional power glitch, they can live with the downtime. Who cares if a research machine goes down? It's a long term project anyway. You can save a fortune by using street power, that comes straight from the grid.
Aside from the obvious financial services and retail examples, few things are 'mission critical' though nobody is brave enough to say it. "Everyone thinks their equipment is the most important in the world," said Ferrara. Now, however, many customers are questioning the levels of resilience that vendors have insisted they need for decades, he said.
Which means they can save significant amounts of money on their bills, according to Ferrara.
I think this is a positive trend. It builds on the message that's being sent out by German car maker Daimler, which has told its employees last week that all email sent to them while they are on holiday will be deleted, and the sender instructed not to expect an answer. How liberating. Ninety nine percent of the people involved hail this as a positive move, says Daimler spokesman Oliver Wihofszki.
Perhaps as an industry, IT has moved on from Uptime to Get Real Time.
Read more on Enterprise Storage Management