If anyone can make the smartwatch fly Apple can
History has proven that when Apple gets involved with a market it tends to have a significant impact and Billy MacInnes thinks the same could happen with the smartwatch
When Apple decides to enter a product category, it's frequently accompanied by scepticism. The first products it releases, be they MP3 players, smartphones or tablets are usually denigrated by those already in the market and knowledgeable technology journalists for the things they leave out rather than the things they include.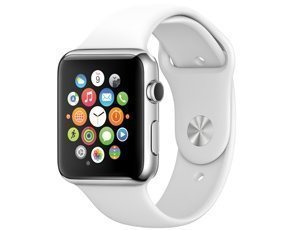 So the iPad, for example, is attacked for not having USB ports or a keyboard and the iPhone is condemned for having a touchscreen rather than buttons. The same pattern is repeating itself with the Apple Watch.
Experts rarely consider such products in terms of user experience even though, in many respects, that's one of the biggest considerations Apple uses when it's designing a product, along with design, which is obviously part of the experience.
And despite what might appear to the cognoscenti to be glaring omissions, as the examples above illustrate, Apple has a proven track record of successfully entering markets and disrupting them to the point where it helps convert them into mass markets. In other words, it is a market maker.
While some experts struggle to accept Apple's ability to help grow and expand markets, research company IHS has no qualms about highlighting the immense role Apple will play if the smartwatch market is to be a success. Forecasting that the smartwatch market will grow from 3.6m units shipped in 2014 to 101m units in 2020, IHS analyst Antonios Maroulis argues that the success of Apple Watch will "drive the overall smartwatch market".
And his colleague Ian Fogg, senior director of Mobile & Telecoms at IHS is even more forthright. "Should Apple stumble with its foray into smartwatches, the smartwatch market will suffer similarly. Smartwatches could then follow the fate of Google Glass," he states bluntly. "Without Apple and its marketing strength, the smartwatch category needs greater marketing spend from other smartwatch makers to overcome damage to consumer perceptions. Apple's smartwatch competitors need the Apple Watch to succeed."
According to IHS, Apple's entry into the smartwatch market will benefit all smartwatch suppliers as "Apple's marketing raises consumer awareness of the category and explains the benefits clearly". It forecasts Apple Watch shipments will hit 19 million units, or 56 percent of the total smartwatch market, in 2015. Apple's share of the market will fall to 38 percent in 2020 (or around 37.6m units) as other smartwatch makers refine their products and serve the vast Android smartphone market, which Apple chooses not to address.
The good news for Android Wear vendors, according to IHS is that because Apple Watch requires a modern iPhone and has a starting price of $349, it will "leave an enormous addressable market untapped" for Android smartphone users and Apple customers "unwilling to spend so much on a smartwatch".
What that statement also shows is that in addition to helping to validate and grow the emerging product markets it chooses to enter, Apple also helps to set the pricing boundaries for them. It's the ultimate market disrupter.