IBM is starting to wrestle with its hardware problems
In the week it revealed in its latest results that hardware sales were poor and then sold off its x86 server business to Lenovo, Billy MacInnes takes a look at IBM's hardware strategy
Back in October, just after IBM published its Q3 results, I wrote a column for an Irish website looking at the effect its hardware business was having on the company's overall performance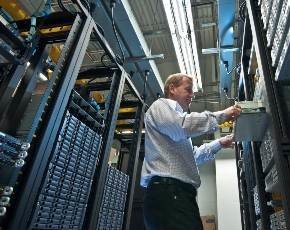 IBM had made a profit of $4.4bn (up 6%) but revenue declined by 4% to $23.7bn and the hardware operation reported sales down nearly 17% (despite a 6% increase in mainframe sales).
The hardware business was smaller than the other segments with revenue of $3.2bn, equivalent to 13.5% of IBM's total sales, and its loss of $167m hurt IBM's overall profit figure but not too badly. The big problem was that the 16% sales decline had a much wider impact, equivalent to 63% of the overall 4% decline in revenue.
And as I noted at the time, this was not an isolated incident, but part of a trend. Hardware sales declined 12% in Q2, accounting for 58% of the 3.3% decline in IBM's overall sales, and they fell 17% in Q1 and accounted for just over 50% of the 5.1% drop in overall company sales.
Now IBM has reported fourth quarter figures and they show that hardware revenues are, yet again, down, falling by just over $1.5bn (or 26%) to $4.3bn. And yet again, that decline is out of all proportion when you consider the size of the unit compared to the overall reduction in company sales of just $1.6bn. And how. The sales decline in the hardware business accounts for just under 94% of the overall fall in sales at IBM.
To make matters worse, there was no ray of light in the hardware business. Every single unit – system z, power, system x, storage – was down.
In October 2013 I wrote that despite the declining influence of IBM's hardware business in terms of size compared to the company overall, it was "having a pronounced effect on the overall sales performance. Even worse, that effect is becoming increasingly negative even as the size of the hardware business diminishes". The Q4 results, published on 22 January, provided yet more evidence of this trend.
No surprise then that IBM has started to address the problem by offloading the system x business to Lenovo for around $2.3bn. The sale comes nine years after IBM sold its PC and notebook business to Lenovo which helped Lenovo on its way to becoming the biggest PC maker in the world. The acquisition of IBM's x86 server business could do the same for the Chinese vendor in the server market.
As for IBM, there may be strategic reasons why it can't or won't dispose of the rest of its hardware business any time soon but they are likely to wither over time. Although the hardware unit may be loss-making it probably generates significant spin-off revenues and profits for other parts of the business, such as software and services, but that is unlikely to continue forever.
The vendor has already recognised that the Power server business won't grow any further. In remarks accompanying the Q4 statement, Martin Schroeter, IBM's senior vice president and CFO – Finance and Enterprise Transformation, announced IBM was taking a number of initiatives in the Power business this year but admitted "even with these additional capabilities, we recognise that the size of the Power platform will not return to prior revenue levels. We will take action in this business to reflect the new business model".
Storage hardware revenues were also down, mainly on the back of declines in its legacy OEM mid-range and high-end offerings. System z mainframe sales fell but IBM said they were part of an expected cycle in the market and the vendor gave a definite impression the mainframe business was still very important. Besides, it managed to generate a higher gross margin on lower revenue in Q4.
"About half of the fourth quarter decline was driven by System z due to the product cycle," Schroeter admitted, but he stressed that the platform was "secularly strong with a solid business model" [I think the transcript may have gone awry here and he actually said "cyclically strong"]. He was a little bit more circumspect about the other parts of the hardware unit. "Our other hardware businesses are dealing with business model issues due to market shifts. We will make these products more relevant while right-sizing these businesses to meet the new value proposition."
We now know that "right-sizing" meant disposal as far as system x was concerned. Apart from system z mainframes, could it mean the same for the others? Who knows? But if it did, it would be a supreme irony if the only hardware unit left at IBM in the 21st century was its mainframe business.