Column: We're not all homogenised yet
Most of us who work in the IT sector or who write about it, tend to think that technology has a homogenising effect on cultures and people, writes Billy MacInnes.

Download this free guide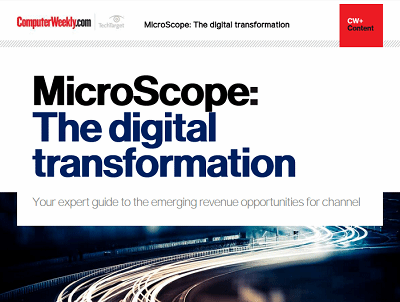 Emerging revenue opportunities for the channel with digital transformation
Digital transformation is a phrase that means many things to many people but for it to have any real relevance to the channel then it needs to mean a chance to make money. This guide will share some of the recent developments in the channel and the latest thoughts about the issue.

Most of us who work in the IT sector or who write about it, tend to think that technology has a homogenising effect on cultures and people, writes Billy MacInnes.

For example, vast numbers of people in different countries around the world spend their days sitting in front of desktop computers or terminals and large numbers of them will be looking at the same operating system, Windows.

Essentially, those countries and cultures have been "colonised" by a US-based operating system which was initially developed for a US audience and they have adapted to fit it.

But just because technology homogenises us doesn't mean it can't also be used to provide an outlet for our cultural differences or uniqueness.

A good example of this is provided by a web site in Ireland called www.deathireland.com.

In Ireland there is a very strong culture of attending the wakes or funerals of people from someone's hometowns, family relatives, friends of family or people they used to know. It's seen as a sign of respect and observance.

I've attended a few wakes myself. They're not the drunken piss-ups that some people outside Ireland imagine but occasions where the deceased lies in a coffin in a room in the house (usually for one or two nights) and people come to pay their respects to him/her and the family.

When you understand the culture, you can understand the potential rationale for a site like DeathIreland. The purpose is to keep people informed of deaths in their home town or a county or an organisation (or even of 10 individual names) so they don't miss a funeral or at least are given the opportunity to express their condolences to the family in one form or another.

As the site mentions on the "About Us" page, "many people expressed regret that they had missed funerals that they would either have attended or at least would have expressed their regrets to the bereaved family in one form or other.

The research also discovered that while this very real interest exists many people do not have ready access to death notices.

In addition to this most Irish people tend to lead busy lives and do not have the time to seek out and read all the death notices every day.

Most of the people researched in both Ireland and abroad expressed enthusiasm for the proposed service on DeathIreland".

Mind you, I don't think you or I would be pleased if we found out our names were included in someone else's list of 10 selected names that they wished to be informed of in the event of a death notification. I'd wonder if they knew something I didn't.

Anyway, it may be true that death and taxes are the only certainties in life, but as DeathIreland demonstrates, there are very significant cultural differences in how we address them.

We're not all homogenised yet.
Read more on Business Intelligence Tools and Services