Cloud Computing is at a crucial stage in its journey says Trend Micro channel boss Hodson
Here's Caroline Hodson, head of UK channel sales and marketing at security giant Trend Micro.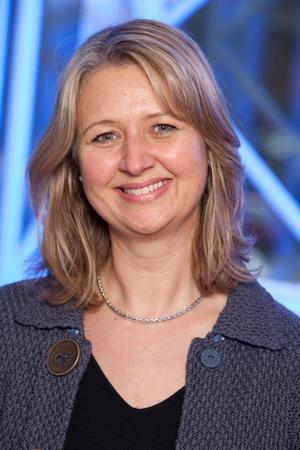 Here's Caroline Hodson, head of UK channel sales and marketing at security giant Trend Micro. She's mad for Infosec. That's the kind of enthusiasm we like to see!
Is this your first time at Infosec?
No. I can't stay away! It is one of those weeks that you see in your diary and look forward to. Think about it: on your feet all day, no natural daylight dawn till dusk, dodging the freebie grabbers - who wouldn't be there year on year?
As compensation, have you got anything exciting to lure punters to your stand?
No.
No gimmicks. No sales stunts. No aggressive marketing. No naked girls (sorry folks).
We are there to have valuable conversations and discussions. To give visitors an opportunity to discuss their needs and their businesses. We've created an open space with whiteboards and sofas where they can meet with experts like Rik Ferguson and Andy Dancer who'll listen, discuss and provide advice on their journey to their cloud and what this means to them and their businesses.
We won't even have any collateral. All our show materials will be delivered via personal SafeSync accounts - allowing visitors to remotely access files, videos, pictures and documents, safe in the knowledge they are protected and in-sync across multiple devices.
We've stripped it back to what's important. How we can help and guide customers to more effectively virtualise their environments and move to the cloud. How can we support and enable our partners to maximise the sales and service opportunity around virtualisation - whether they are an existing security specialist or current focusing on virtualisation and infrastructure. .
There's a lot of clones at Infosec. So what makes Trend Micro different from all the other solutions out there?
You have to start by considering the pain points that customer are talking about in relation to virtualisation projects or the mysterious cloud.
a) Security concerns
b) The ability to demonstrate an almost immediate return on investment
These are probably the two biggest factors that are slowing down companies' virtualisation strategy.
What makes Trend Micro different is our ability to remove both the security barrier and enable customers to realise the benefits of virtualisation. This together with an ability to demonstrate a greater ROI with security solutions that actually improve performance means we can support them to create their own business case as well as ensure they deploy the right solution!
How do we do that? It's through our partnership with VMware - teaming up to deliver revolutionary virtualised security. These solutions leverage the VMware platform to deliver better-than-physical security, meaning higher consolidation rates <Tolly Report> and cost savings, as well as faster performance and better manageability.
These are tried and tested solutions that have been in live environments since 2009 and have been deployed across more than 150 customers. Where many vendors are discussing roadmaps and future developments, Trend Micro are at least 18 months ahead.
We are reaching a critical stage in the cloud journey. Server virtualisation is becoming mainstream and customers are now looking at ways to sweat their assets, and desktop virtualisation has taken off big time. Our partners are going to sell hardware and software for virtualisation projects, so sell Trend Micro with it and help get over the security barrier many companies are putting up and more effectively virtualise their environments
Jesus used to exemplify important moral messages with simple tales.
Can you exemplify your IT service/product with a simple parable?
My son is an avid sports fan. He loves playing football and rugby and would do so morning till night if allowed. However he also likes to play barefoot - it takes too long to stop and put trainers on when you could be scoring goals much quicker. However, by buying him his first pair of proper football boots, we have demonstrated how much faster he can run, how much harder he can kick the ball. Ultimately how much better he performs. This is the same with virtualisation; you can implement a virtualisation environment and it will work. But if you really want to maximise performance then you need to plan in advance, understand how different elements work together to improve overall performance and enable you to achieve the ROI you are looking for.
Read more on Threat Management Solutions and Services