Can the industry learn from Football Manager 2013?
Nick Booth finds some lessons for the industry in the latest release in Sports Interactive's Football Manager video game series.
Business system vendors could learn a lot from Football Manager 2013...
The words of Gianfranco Zola there, speaking at the launch of FM 2013, the latest version of the industry database for the football industry. He thought I was asking him about football. In fact I was asking him about business, given that Football Manager 2013 is essentially the de facto information system for the football industry.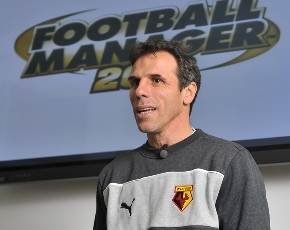 Though it's sold as a game, Football Manager 2013 has in depth detail on every footballing talent available in Europe. The original idea was that nerds would use this information to assemble imaginary teams for their computer games. Instead, in a classic example of life imitating apps, agents, football managers and anyone else trading in talent started using the database for business.
Come the January transfer window, Football Manager 2013 will be the foundation for many of the desperate trades that takes place. When Danny Panicbuy joins Leicester City in the new year for £2m, all the research will have been based on the information compiled by thousands of talent scouts paid by Sports Interactive – publisher of Football Manager 2013.
The publisher, by all accounts, has a comprehensive network of intelligence gatherers, with inside knowledge of every club, at every level, across the globe. So, in a sort of reverse gamification process, a game was given a business interface. What would that be? Bizzification?
A a business information system, the game Football Manager is far more professional and businesslike than what passes for research in most industries. If only the rest of IT was as thorough as Sport Interactive boss Miles Jacobsen. Every day in IT hundreds of surveys are released all of which just happen to echo the marketing message of the people who commissioned them. I say commissioned, what I really mean is made up. If they are not making up survey results, they're conducting surveys on groups that are too tiny to be statistically significant, on questions that are so vague they are open to all kinds of interpretation – says research I just made up.
Football Manager 2013, then, could teach us all a valuable lesson about business. So stick that up your agenda, Lord Sugar. He always argues that football needs to learn from business when in fact, it's the other way around.
For example, Sports Interactive's boss Miles Jacobson noticed from comments that many older people never had time to play Football Manager. So he introduced a new Classic Mode into the 2013 release, which strips the game down to its basic features.
If only the IT industry would follow suit. Most operating systems and applications could do with a Classic Mode. They're all far too complicated, and offer all kinds of hidden short code death traps that can see you setting up tables or starting macros you never wanted, or highlighting and deleting entire documents, all because you randomly hit a fatal combination of keys.
Let's have a Classic Mode for Microsoft Word. That would save us all time. At the end of the day, that's what it's all about isn't it? If you entertain people, that'll bring the clouds back.
Read more on Business Intelligence Tools and Services