Column: 2012 forecast is boils, wailing, teeth gnashing, Ethernet
Does anyone still believe you get a bargain in the sales? Everyone knows BOGOF is a RIP-OFF. Whenthe supermarketsays you can Buy One and Get One Free, we all know they've Re-priced One to Pretend One's Free. Well thank God the January sales are over, I say. Well, nearly anyway. One invitation caught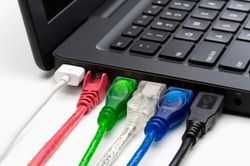 Does anyone still believe you get a bargain in the sales? Everyone knows BOGOF is a RIP-OFF. When the supermarket says you can Buy One and Get One Free, we all know they've Re-priced One to Pretend One's Free.
Well thank God the January sales are over, I say.
Well, nearly anyway. One invitation caught my eye. An outfit called Exponential-e is launching a 1Gbps business internet service priced at £1,500 per month. That's half the market price offered by other service providers, they claim.
Hang on, half price Ethernet? That actually sounds like a genuine bargain. These Exponential-e people clearly haven't read the script. Or perhaps they are doing what the supermarkets do, when they have a BOGOF. Maybe they doubled the price on Tuesday, then offered two for one on on Wednesday.
If Exponential-e really is cutting the price by half, they surely don't fit into the business culture of rip-off Britain, where the regulatory bodies are pointless (hello, OFCOM) and the customers never complain (but they do grumble... oh boy do they grumble).
By halving the buck/bang ratio, Exponential-e made price performance grow, well, exponentially. I wish them luck, but I don't hold up much hope for anyone who tries to compete by being nice. The public just won't stand for that old-fashioned nonsense.
Besides, isn't Ethernet supposed to be dead by now? The Ethernet camp is another technology lobby that hasn't read the writing on the wall.
Years ago, all the experts predicted that it was only a matter of time before Token Ring, the brilliantly-engineered, eye-wateringly expensive LAN technology from IBM, outsold Ethernet, whose broadcasting limitations were about to be rumbled.
A significant majority of creepy, status quo loving, marketing agenda following analysts and journalists would tow the IBM party line in their reports. So much for editorial independence! Ethernet was handed the black spot more often than Long John Silver.
And yet, and yet.... People ignored them because Ethernet was cheap and by the time they needed something faster its techniques had evolved. Eventually it took over the wide area, seeing off ATM (another expensive dud that oily pundits kept predicting great things for.)
That's another appalling aspect of any new year. The hundreds of sooth sayers who put out press releases outlining their crashingly dull predictions for the next 12 months. Cloud computing. Tablet sales. Mobiles. They're all going to sell well very well, apparently. Well, thank you, Young Mr Grace!
The worst type of expert analysis usually carries the advice that 'IT must become aligned to the business'.
As opposed to what? Since IT is either about cutting costs or improving sales, I should bloody hope it is 'aligned to the business'. What did they think it was aligned to? Jupiter's movements in Sagittarius?
If only someone would go out on a limb and say something daring. But they won't.
So come to think of it, half price Ethernet is about as revolutionary as it'll get. Hooray for Exponential-e and their January sale. I hope that millions of resellers sell it into pubs, who use that 1GBps to offer free wi-fi, giving us all a free office, and saving the British pub from extinction. And there will be a plague of boils affecting coffee shop workers and there will be much wailing and gnashing of teeth at Starbucks, which will fall into the sea.
And I firmly predict that will happen. You mark my words.
Image courtesy: ThinkStock
MicroScope+
Content
Find more MicroScope+ content and other member only offers, here.