In depth: Recession has reshaped the components market
One of the interesting things about the components sector is that its performance tends to mirror that of the wider economy. This is because there are relatively few products on the market these days that do not contain some form of electronics.

Download this free guide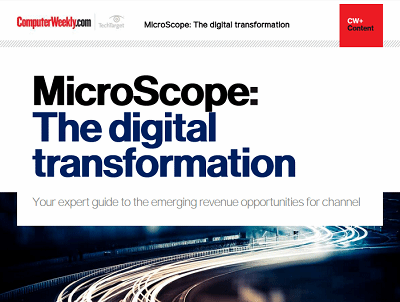 Emerging revenue opportunities for the channel with digital transformation
Digital transformation is a phrase that means many things to many people but for it to have any real relevance to the channel then it needs to mean a chance to make money. This guide will share some of the recent developments in the channel and the latest thoughts about the issue.

By submitting your personal information, you agree that TechTarget and its partners may contact you regarding relevant content, products and special offers.

You also agree that your personal information may be transferred and processed in the United States, and that you have read and agree to the Terms of Use and the Privacy Policy.



One of the interesting things about the components sector is that its performance tends to mirror that of the wider economy. This is because there are relatively few products on the market these days that do not contain some form of electronics. As a result, if demand is high in a general sense, the industry prospers. Conversely, if it contracts, the segment suffers.

Not surprisingly, it has been a difficult 18 months or so for the sector. The Distributors' and Manufacturers' Association of Semiconductor Specialists (DMASS) says that in its 20 years of existence, it has never seen a bigger downturn.

There was a record decline in the level of component sales passing through the European distribution channel during the first six months of 2009 as revenues fell a huge 29.2% compared with the first half of 2008, a move that valued the total sector at €1.86bn. But the second quarter saw an even heavier drop, with sales crashing 32.6% on the same period the previous year to €869m.

Of the major European countries, Italy and Germany have suffered the most, experiencing revenues drops of 40.3% to €99m and 34.3% to €282m respectively. The UK's decline of 28% to €80m is reasonably positive in comparison.

But on a somewhat cheerier note, when DMASS released its figures in August, chairman Georg Steinberger said the organisation was "less pessimistic" about the outlook for the rest of the year.

"Book-to-bill ratios in July were steadily high and have created some cautious confidence in the return of the market. In some cases, we even expect availability bottlenecks," he said.

Nonetheless, Steinberger noted that it would take some years to get back to the record sales levels of early 2007, which were 40% higher than the last quarter.

Adam Fletcher, vice-president at the International Distribution of Electronics Association (IDEA), has a similar take on the situation. When his organisation's figures were published in August, he said: "We believe that we are now entering a period where the rate of decline falls and the industry stabilises over the second half of the year."

As a result, Fletcher said he suspected that the industry would "bounce along the bottom of this recession", although he likewise observed that it was unlikely to see a return to growth until this time next year.

But like DMASS, he indicated that bookings (or net sales entered) and billings (or net sales invoiced, minus credits) for the distributor total available market in Europe during the first half had not been good, plummeting a huge 31% and 30% respectively on the year ago period.

Billings during the second quarter of 2009 were down 13% on the first quarter, while bookings dropped about 7%. But Fletcher said the fact that such figures were at the low end of the Association's previous guidance indicated that consumer confidence was starting to improve slightly.

Waiting for growth

But Graham McBeth, president of distributor Avnet Abacus, is not entirely convinced by either of the associations' cautious optimism. Although the components market is, at root, a growth one, he indicates that it has been "hammered" during the recession and he is still unsure whether the worst is over yet.

"September and October were a bit better and were up between 15% and 20% on June and July. So there is a bit of a recovery going on now, but there is also a question mark over how sustainable it will be," he says.

At a recent industry conference in France, for example, Sony indicated that it expected to see more of a 'W' shaped recession than the ''Y' shaped ones of more recent times. But as McBeth points out, "No one is expecting there to be 'Y' effect and for things to shoot back up this time. But how long a 'W' will last, we don't know."

While in the past, the components industry has proved itself to be quite cyclical, the issue this time is that this is not an industry problem, he adds. "The world is on its knees and we have seen some recovery, but the government is pumping in millions with things like the car scrappage scheme to stimulate economic activity. But you could argue that it is just robbing Peter to pay Paul as it accelerates spending, so it may just be a bit of a stumbling uplift," McBeth says.

Brian McNally, president of distributor Arrow Europe Components, agrees that from this vantage point it is too early to tell when the industry will return to stable growth, not least due to "a general lack of visibility from customers".

"The industry has experienced a significant contraction. The channel, our suppliers and customers have all focused on closely managing their balance sheets and continue to manage inventory and capacity carefully," he says.

"But given the size of the contraction, even small increases in end-demand will likely lead to many spot shortages in the short-term," says McNally.

This is already happening in some areas. While shortages have traditionally been an indicator of strong demand, today it is more an indicator of poor capacity.

"People are reluctant to invest. But if customers want to buy 10 components and know that they will not be able to get two of them for 20 weeks, it acts as a stimulus and encourages them to start giving orders in advance rather than at the last minute. So longer backlogs mean that they are keener to open up their order books than they were before," McBeth says.

This scenario is likely to lead to some short-term price hikes in certain areas such as resistors and capacitors and could also serve to boost confidence.

Maxine Hewitt, sales manager at distributor Alpha Micro Components, says, "If order books get bigger as people start scheduling out, there will be a knock-on effect down into the distribution channel. It is about better planning by customers, which makes it easier for us to plan too, and that gives the market a bit more confidence."

But the downside of shortages and longer lead times is that they tend to stimulate the market for counterfeit products. Arrow's McNally describes this problem as "rampant".

But if there is a shortage, people go on broker forum websites and ask if someone has this or that, which triggers the counterfeiters to match demand

While some in the industry do not think that the recession and the resultant lack of component shortages has made the situation any worse, the danger is that there may be more opportunities based on a little upturn, which is not helpful for the legitimate market.

Managing demand

As a general rule, customers are making it clear that they want more for less. They are seeing the same impacts so they are adapting because they want to ensure they get the best price, McBeth says.

One way of coping is to bundle more services with offerings for the same price, as is streamlining logistics operations or managing inventory more carefully.

Arrow's McNally says that his firm has remained profitable by managing both expenses and its balance sheet, which has generated "significant cash". He adds that it is also working closely with customers and suppliers to position inventory and receivables to fuel growth.

The company has likewise responded to an ongoing shift from component selling to the provision of complete solutions that encompass product, design-in support, engineering capabilities and supply chain services, according to McNally. He says the move has been crucial as customers look to focus on core competencies due to diminishing development resources and increasingly complex applications.

Another continuing shift relates to the introduction of more proprietary components by embedded components, semiconductor and passive, electro mechanical, and connector suppliers to create unique 'limited customer' devices.

"This trend is significant when viewed over the past 15 to 20 years. These unique devices are challenging the supply chain and increasing the risk of stock-out. This will create an opportunity for the channel to improve supply chain services and forecast management," McNally says.

But the inevitable outcome of all of this upheaval, according to McBeth, is that the market will never be the same again. "Unfortunately, a lot of people have lost their jobs and they won't get them back. If you've lost 30% out of the market, to return to 2008 levels will take many years. If it levels out this year and grows by 10% next year, we will all be pleased, but that would still mean that 2010-2011 was 20% below 2008," he says.

Therefore, a key theme at a recent conference he went to in France was less about the Darwinian idea of survival of the fittest, but more about the survival of those most adaptable to change.

Exercising caution

One way that such change is starting to manifest itself is the unwillingness of the channel to take on less profitable business and to look for alternative ways of handling what business there is.

Abacus, which was one of Europe's largest electronic component distributors, was acquired by Avnet in January this year for £42.2m cash. But nonetheless, McBeth indicates that he does not expect to see much more merger and acquisition activity in the sector any time soon.

"If you lose 30% of sales, you lose people, and there has been a significant headcount restructuring. But despite the reductions, a lot of organisations are still losing money because they cannot take enough cost out to compensate for falls of 30%," he says.

As a result, firms that have any money are holding on to it. "Most companies are just battening down the hatches and there is very little acquisition activity. The stronger guys are just waiting for the smaller ones to go bust as they are fearful of the shape the company will be in if they acquire one," McBeth says
.
But Arrow's McNally is not convinced. The distributor recently merged two brands, Spoerle and Sasco in central Europe, "in line with the increasingly global nature of our customers' design, manufacturing and sales organisations". He believes the move will enable the company to further improve and streamline processes across the region.

"Suppliers, customers and the channel have shed less strategic parts of their business through this cycle. I suspect this pruning will continue through the cycle. There will likely be further consolidation in all parts of the supply chain before this cycle concludes," he says.

Whatever the outcome, what is certain is that the components market will continue to ride the tide of the general economy, even if potential opportunities generated by schemes such as the Olympics and rising interest in renewable energy come to fruition.

"If talk about the 'W' shaped recession are true, this upturn may be just a bubble. But on the back of more positive news from the markets, our trends and data would support the idea that things may be getting better. But there is a real fear factor out there and no one wants to overstate financial forecasts or rush to employ more staff. Everyone's still being cautious," concludes McBeth.


---

Product trends

According to The Distributors' and Manufacturers' Association of Semiconductor Specialists (DMASS), the hardest hit products in sales terms during the first half of this year, were sensors, which saw revenues drop by 47%. Sales of power chips likewise declined 40.4%, while standard logic chips fell 39.1%.

Flash memory was the best-selling overall item, with revenues dropping by only 2.4%. Memory chips also declined by a less than average 18.2% and programmable logic chips by 25%.

The most buoyant sectors include wireless devices, GPRS systems, security, the communications market (including M2M) and energy management offerings, which include LED lighting.


MicroScope+
Content
Find more MicroScope+ content and other member only offers, here.