In-depth: A game-changing year
The last year of the 'noughties' was a big one for the technology sector, and many of the developments will have repercussions throughout this year and beyond. David Binning reports.
This Article Covers
RELATED TOPICS

Download this free guide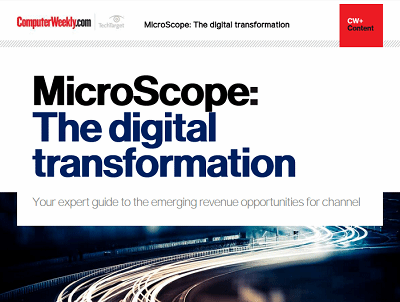 Emerging revenue opportunities for the channel with digital transformation
Digital transformation is a phrase that means many things to many people but for it to have any real relevance to the channel then it needs to mean a chance to make money. This guide will share some of the recent developments in the channel and the latest thoughts about the issue.

By submitting your personal information, you agree that TechTarget and its partners may contact you regarding relevant content, products and special offers.

You also agree that your personal information may be transferred and processed in the United States, and that you have read and agree to the Terms of Use and the Privacy Policy.

The last year of the 'noughties' was a big one for the technology sector, and many of the developments will have repercussions throughout this year and beyond. David Binning reports

We all know that a year is a long time in the technology industry, and there's barely been a 12-month period in the past 30 where people have failed to remark on the "speed of change".
But even so, 2009 saw a number of key developments that are likely to reverberate through the industry for years to come.

The announcement of Windows 7 marked much more than simply the end of the much-maligned Vista operating system. More importantly, it marked the first time in the history of the Wintel partnership whereby users upgrading to the new operating system could do so, and do so easily, without the need for new hardware.

For two decades vendors, the channel and users had learned to accept Moore's Law as some kind of divine principle. Not any more.

Microsoft saw Windows 7 as an attempt to seem progressive and willing to change. With more than three million beta testers it became the biggest product consultation exercise ever undertaken by a technology company, or probably any company for that matter. It was also a major capitulation by an organisation whose monopoly position has dictated the rules of play virtually since the arrival of the personal computer. In short, Windows 7 was an acknowledgement that the rules had changed, as was Microsoft's far less publicised work in the area of web-based office applications.

And while many companies have played their part in bringing about the new order, it's difficult not to give Google most of the credit.

Of course untold millions of people have been won over by the ability to search for and access endless oceans of data, manage email and chat, not to mention last year being given a free suite of office applications. But it was the collective realisation that you didn't need a mega-powerful computer and heavy operating system to do it that brought about the major shift in thinking that is now taking shape.

For the past few years at least, computer manufacturers have been toying around with ideas for small, stripped-down personal computers. But it wasn't until last year that analysts could see that Acer's gamble on the 'netbook' market had begun to pay off. Now every major computer manufacturer is pushing some sort of netbook line.

This year will see a rapid maturing of the market for devices that are stripped back and simple to use but with multiple communication options such as Wi-Fi and 3G alongside Ethernet and possibly even satellite. But it's not just the insides that are changing.

Apple's announcement last week of its sleek new iPad may very quickly render the traditional form factor of the average portable computer a little passé. And like we've all seen with the iPhone, the fact that the iPad doesn't seem austere enough to be taken seriously by corporates doesn't mean that it won't happen.

The benefits of what is essentially a high-powered laptop that presents as a full screen tablet at around half the weight should be pretty compelling for most industries, not least of which being education. Then of course there are the sales, property and just about any creative industries which are likely to applaud this development.

Sworn enemies

But the computing story this year will in many ways be led by the mobility market. The battle between Apple and Google in this space has been fascinating to say the least, and the fact that the two companies are now sworn enemies should lead to faster and more interesting innovations.

It's probably part of the reason why Apple has opted to reverse its famed pickiness about who is allowed to sell its products. Now that it is competing with Google, that sort of strategy makes little sense, which means that more channel companies will have an opportunity to be part of the unfolding Apple story.

Another issue that Apple may be forced to address is the fact that it doesn't licence any of its software. Google on the other hand is happy for its mobile operating system Android to run on any old handset, a fact which may make it more appealing to developers in the long run.
Not content just to battle Apple on the operating system front, Google has now come to market with its own handset as well, banking on the power of its brand extending into the hardware realm. Early sales numbers for the Nexus One however have been a little lacklustre.

Either way, both consumers and business users can expect to see a raft of innovative new products this year as two of the most powerful technology companies in the world battle it out for supremacy.

There are several other key players in the shadows, not least of which is RIM, maker of the Blackberry. Until recently the Blackberry was more or less the default mobile device for corporates around the world, but it is losing mind share to Apple fast, while Google's expected success in this space could be very dangerous for the Canadian firm.

The way in which it, along with the likes of Nokia, Sony Ericsson, HTC, Palm, Motorola and Samsung, position themselves in the market will be critical, while some level of consolidation seems increasingly likely - as it does within the ranks of the major PC manufacturers.
Probably the most notable thing about the likes of Dell, HP, Compaq and Lenovo over the past year has been falling sales, a fact which wasn't helped by Windows 7 denying them their traditional upgrade gravy train.

With server sales also falling, these companies are under pressure to reinvigorate themselves this year, with the channel emerging as one of their key assets for doing so.

New product lines

To be fair, the big PC companies have increased their efforts to develop new product lines. Dell for instance launched a notebook running Linux and has a growing line of so-called "ruggedised" products, while HP and others have come out with new products along the lines of the iPad. Yet even though Apple's product came out after them, it is of course now first in people's minds.

Whether the major chip makers can offer the PC guys much assistance is an interesting question. Both Intel and AMD continue to innovate with new chip sets, it's just that their announcements won't have the same cachet as they've had in the past, while mobile chip set makers such as Qualcomm will garner more of the limelight than previously. On the other hand mobile phones will increasingly carry chips from Intel and AMD as they seek to follow the money.

Mobile technology is already playing a significant role in the enterprise, which is only expected to grow this year, especially with the move towards unified communications. UC refers loosely to products allowing people, particularly in the work environment, to communicate with each other across different technology platforms. For instance someone might configure their email to reach them via instant messaging, or a voice message to be relayed as text. This approach to communications is expected to see a significant increase in interest this year with companies like Cisco, Avaya and Ericsson expected to push ahead aggressively with new offerings.

The arrival of so-called 4G services will of course be welcomed across the industry, with their promise of gigabit mobile speeds no doubt presenting new opportunities to meld mobility and the enterprise.

And while there has been a lot of talk about mobile communications catching up to or even overtaking the fixed environment, there are a lot of companies that will have something to say about that, especially along the lines of fibre-based broadband.

Where are the clouds?

Another area which is changing this enterprise landscape space in ways which no one could have predicted is the cloud.

With its offerings of cheap on-demand processing power, storage and applications, the market for cloud services was one of the more buoyant areas of the technology sector throughout the global financial crisis, and is expected to remain so well into the future.

Key players include the likes of IBM, Amazon, Google, EMC and Cisco, as well as the applications players such as Salesforce.com and Netsuite. While last year saw the arrival of such new acronyms as SaaS, IaaS, PaaS, and EaaS, this year will likely see more nuanced differentiation of services as more companies in more industries migrate increasing bits of themselves over to this new model. As the sector grows, it is expected that more cloud services will be sold indirectly through third-party channels. However, those vendors will need to be mindful of and address the growing concerns around security.

Not immediately associated with cloud services, social networking sites such as Facebook, Twitter and LinkedIn are essentially exactly that.

Last year these services realised a staggering increase in subscribers, which in turn triggered a trend towards their use by marketing professionals and other corporate types looking for commercial opportunities.

The ability to exploit social networking sites is now emerging as a technology discipline in its own right, and with it opportunities for resellers to offer valuable guidance.

One of the biggest events in this space last year was the arrival of Google Wave, a web-based personal communication and collaboration tool designed to merge things like email, instant messaging, tweets and wikis. A number of large companies have announced plans to incorporate Wave into their existing products suites, among them German enterprise software specialists SAP.

Interestingly for the channel, companies such as SAP and Oracle are set to make a big push into the SME market this year, with both having amped up their respective channel programmes. For those resellers involved with Oracle, its now approved takeover of hardware giant Sun Microsystems should inspire some interesting and powerful product this year, especially around Java, which is owned by Sun.

Too much information

One of the big challenges facing the enterprise, and increasingly smaller companies, is managing the formidable mountains of data being accumulated, especially via web-based applications and services.

More and more companies are beginning to realise that if they are to truly extract value from this information they need to invest in products to help them effectively collect and analyse it so as to better understand and pre-empt things such as market trends.

In fact Business Intelligence (BI), also sometimes known as data analytics, is emerging as a tool for real competitive advantage for companies that have suddenly found themselves bloated with information. Awareness of BI technology is expected to increase markedly this year as competition in this area increases.

Also concerned with extracting value, demand for virtualisation products is expected to go through the roof this year, as companies wake up to the inefficiencies that have been allowed to spread through their data centres during the good times.

One of the fastest-growing sectors of the IT industry, virtualisation promises to deliver massive improvements in IT efficiency by enabling users to host multiple operating systems and applications on the one server or PC, thereby consolidating the amount of hardware required.
Not surprisingly, sales of virtualisation technology have grown strongly since the onset of the global recession last year. Analyst group Gartner predicts a 43% rise in revenues to $2.7bn for the 12 months to December, with global penetration of the technology on target to reach 20% by the end of this year.

The trend towards virtualisation of course has major implications for hardware manufacturers, with many now looking to offer features designed to enable more efficient and flexible use of processing and storage resources. Another example of Moore's Law being openly flouted.

Virtualisation

Virtualisation has emerged as one of the key tools for addressing sustainability within companies, but other technologies are also expected to grow in number this year such as for improving the performance of actual applications as well as telecommunications networks.
This April the government's Carbon Reduction Commitment (CRC) scheme comes into effect and with it a minefield of fines and other penalties for companies which fail in their responsibilities to reduce greenhouse gas emissions.

In the data centre environment new and established companies are moving ahead with solutions for reducing power consumption and achieving other efficiencies.

Meanwhile, technology itself is beginning to play a bigger role in helping organisations shrink their carbon footprint; everything from applications for tracking emissions to videoconferencing as a substitute for air travel.

It is therefore expected that both vendors and resellers realise new revenue opportunities this year as companies seek to meet their regulatory responsibilities while assuaging a bit of guilt along the way.

But the degree to which the British government prosecutes the CRC, and its own CO2 commitments for that matter, remains to be seen this year.

As more evidence emerges of major data fiddling by climate change scientists and fewer people buy the story that carbon is killing us, the suddenly buoyant market for green IT could this year dwindle and fade away as surely as an English summer.
MicroScope+
Content
Find more MicroScope+ content and other member only offers, here.
Read more on Sales and Customer Management