Why a Trulink USB Hub could ease the pain of owning a MacBook
There are some times when it's OK for a man to cry. One of them is when he wakes up and suddenly realises he's married to Janet Street-Porter. It's also OK to cry, I found out the other day, when you discover that your new MacBook Pro isn't as cool as you thought it would be. What they don't tell yo
This Article Covers
RELATED TOPICS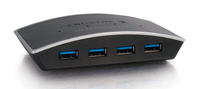 There are some times when it's OK for a man to cry. One of them is when he wakes up and suddenly realises he's married to Janet Street-Porter.
It's also OK to cry, I found out the other day, when you discover that your new MacBook Pro isn't as cool as you thought it would be.
What they don't tell you when you buy any PC or a Mac is that no matter how many USB they've managed to cram onto it, it won't be enough. You can never get enough USBs. And they're too blimming slow too.
I'm starting to hate my Macbook Pro. OK, it looks cool but it doesn't connect very well.
There's never room to plug more than one USB key in at a time. Even if you have a stick thin USK key, it's impossible to fit two into your machine alongside each other. These days, all memory sticks have to be creatively designed, so they're the shape of a guitar or a Swiss army knife; one of my most frequently used USB keys is the Flip cam, where the USB comes attached to a video camera.
So, the Trulink 4 Superspeed hub sounds incredibly promising. It's a Ronseal sort of a product; doing exactly what it says on the tin. It gives you four more ports, all nicely spaced apart, that run at super high speeds.
The USB 3.0 promises higher transfer rates (up to a theoretical 4.8Gbps), new power management features and more bus power. So more power-hungry devices can be bus powered. Meanwhile, battery powered devices that previously used bus power to get charged can get zapped a lot quicker.
Even if you don't use multiple USB 3.0 hard disks, having four ports on your desk is far better than having one or two tucked away on the rear panel of your PC. If you don't have a USB 3.0 kit don't panic; the standard is backwards compatible with USB 2.0, so you can still hook up your old peripherals.
Sorted! You'll never have to clamber under a desk again!
Resellers can source these through CablesToGo.
MicroScope+
Content
Find more MicroScope+ content and other member only offers, here.