Team Epson UK's London to Brighton charity bike ride
In the first of an occasional series of guest blog posts in the run up to the London to Brighton bike ride we hear how training is going for the Epson team planning to ride to the South Coast. On June 17 this summer, Epson UK-based staff will once again be participating in the British Heart Foundat
In the first of an occasional series of guest blog posts in the run up to the London to Brighton bike ride we hear how training is going for the Epson team planning to ride to the South Coast.

On June 17 this summer, Epson UK-based staff will once again be participating in the British Heart Foundation's London to Brighton bike ride. Covering 54 miles, this hugely-popular annual event will see Epson staff from both the Hemel Hempstead and Telford offices endure saddle-sores, thigh cramps and general aches and pains to help raise money in the fight against heart disease.

Having started a few years ago with just five brave riders, this annual event has gathered strong momentum year-on-year at Eps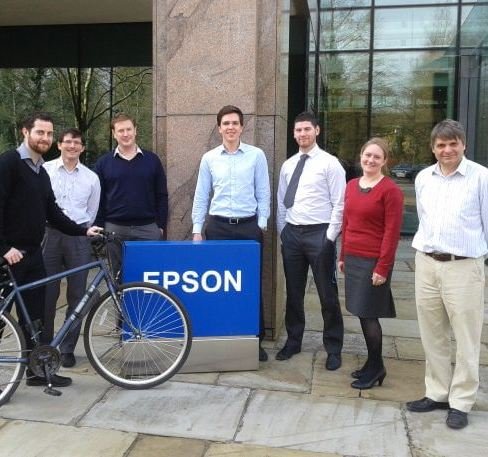 on and now boasts over 25 UK staff taking part this year.


Headed by Dan Melly, telesales specialist, with behind-the-scenes support from Barry Deadman, facilities health and safety supervisor, the team is hard at work to ensure they are ready for the long ride ahead of them.

Getting in shape for the ride has seen a change in some team member's commute to work with a little help from their bicycles, as well as weekend cycle rides now becoming a regular event.

Some members have even taken it upon themselves to do trial-runs of the 54 miles that awaits them in June. Battling the elements and picking up the odd injury along the way hasn't dampened the team's spirit, with TEAM EPSON UK working hard to ensure they are in top shape for the summer.

Yoshiro Nagafusa, vice president, business planning and product marketing, says: "I'd like to give the Team Epson UK riders my best wishes and full support of this fantastic charity event they are undertaking. It's really encouraging to see so many Epson staff helping raise money for a good cause, and demonstrating the Epson spirit of energy, team work and determination to overcome difficult challenges."

Last year TEAM EPSON UK helped raise over £3,000 and are aiming for even more this year. Anybody wishing to send a donation, and leave a good luck message to help spur the team, on can visit their donation page at www.justgiving.com/TEAMEPSON2012.

In addition, this year is the first time well-wishers can show their support with a text. Simply type ESON50, followed by the donation amount (eg. ESON50 £5) to 70070.


MicroScope+
Content
Find more MicroScope+ content and other member only offers, here.