Tableau offers business intelligence for dummies
I missed the event, but a tip off from a former tabloid journalist told me that the Tableau's partner programme might be worth investigating Research companies Gartner and IDC both recently rated Tableau as the fastest growing business intelligence vendor in the world. We'll have to take their word
This Article Covers
RELATED TOPICS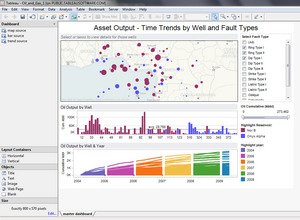 I missed the event, but a tip off from a former tabloid journalist told me that the Tableau's partner programme might be worth investigating
Research companies Gartner and IDC both recently rated Tableau as the fastest growing business intelligence vendor in the world.
We'll have to take their word for that, because I don't have a business intelligence tool at my disposal. No, hang on, yes I do, because Tableau has given me a review account. Set your Google Alert for 'Tableau Review'.
If you don't want to wait you can download a free trial.
The beauty of Tableau, so its makers claim, is its simplicity. It takes the data you already have and makes it easier for you to lay it out into impressive formats. It won't be long before someone claims they've 'consumerised the business intelligence market'.
Apparently, it has the capacity to work out the best way to represent your data - whether that's a pie chart or infographic or venn diagram.
There's been good feedback from Cheyne Capital and Oxford University. They claim they can knock out reports in hours rather than weeks.
Sounds good. But every product is 'plug and play' these days. Even the Hadron Collider.
Still, the partner programme might be worth checking out. Or you could wait for our review.
MicroScope+
Content
Find more MicroScope+ content and other member only offers, here.