Smack my bus up; Daisy brings home musical souvenir
Acquisitive Lancashire-based comms firm Daisy has made another addition to its growing portfolio in the form of a 59-year old Routemaster London bus. The classic Routemaster bus formerly belonged to Prodigy frontman Liam Howlett, and was bought for him as a birthday present by his wife, singer Natal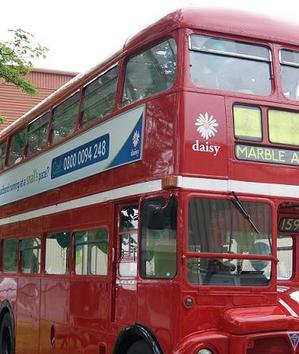 Acquisitive Lancashire-based comms firm Daisy has made another addition to its growing portfolio in the form of a 59-year old Routemaster London bus.
The classic Routemaster bus formerly belonged to Prodigy frontman Liam Howlett, and was bought for him as a birthday present by his wife, singer Natalie Appleton.
Since being sold by TfL when the Routemaster fleet was replaced with the Ken Livingstone's ill-fated bendy-buses, the venerable London icon has spent the past five years being used as a hang-out for the band and lived in Liam's back garden.
Daisy CEO Matthew Riley had challenged his PR team to get their mitts on a life-sized London souvenir; an act of immense charity to give them a break from writing press releases about acquisitions.
Daisy PR executive Fiona Ritchie bought the bus unseen over the phone, saying "we had no idea what she would look like when she arrived at our Nelson headquarters."
Happily for Ritchie the bus was in good nick, and had been well kept in its original state (could it be that the writer of Firestarter is in fact a bus spotter?)
"It took the driver eight hours to get her here, travelling at a maximum speed of 40mph, and while a bit bruised and battered she was in a really good condition for her 59 years," said Ritchie.
Daisy plans to use the bus for promotional and recruitment activity, and it will be turning up at events and exhibitions on the firm's behalf.
MicroScope+
Content
Find more MicroScope+ content and other member only offers, here.