Rescuers still hopeful of reaching buried story caught in a perfect corporate jargon storm
Six days after being submerged under a downpour of corporate jargon, rescuers still haven't given up hope of rescuing a vaguely interesting story. The story, about a new IT product that could make a variety of British industries more productive and profitable, was last seen as it left the Thame
This Article Covers
RELATED TOPICS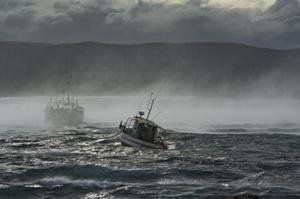 Six days after being submerged under a downpour of corporate jargon, rescuers still haven't given up hope of rescuing a vaguely interesting story.
The story, about a new IT product that could make a variety of British industries more productive and profitable, was last seen as it left the Thames-side offices of
Cyberim
in Weybridge.
Though the expedition was warned of the dangers of guiding a story without an experienced pilot, the engineers responsible for the craft said they were confident it had legs.
Last night, rescuers were hoping that this false confidence had not proved fatal.
By Friday, the story had gone missing shortly after it passed through a channel that is notorious for destroying any craft that passes through it. Veterans say the conditions in which CybeRim found itself had all the elements of a perfect storm of nonsense.
"There was a marketing director, a channel salesman, a product marketing manager and a corporate governance lawyer," said one experienced helmsman. Any one of these elements can prove fatal, if allowed to interfere with productivity. Working collaboratively, they could destroy anything in their path.
But to make matters worse, all of them had a bit of time on their hands and wanted to make their mark on the story.
"I've been launching stories for 20 years, man and boy, and I've never seen a more perfect environment for creating froth and nonsense," said one rescuer.
The amount of hot air, flotsam and jetsam that was generated by these elements would have been enough to turn over a craft ten times the size of Cyberim, say mariners.
But some rescuers are refusing to give up. "There's a story about virtualisation and possibly storage in their somewhere," said one investigator, "if we can find that, we can probably uncover some possible benefits and we might find the
occupants
of the story still alive."
MicroScope+
Content
Find more MicroScope+ content and other member only offers, here.