Olympian Roger Black spotted in MicroScope office
None other thanOlympic silver medallist Roger Black dropped by to visit MicroScope.co.uk andour sister title ComputerWeekly.com today in our swanky West End digs. With a year to go before the opening ceremony for London 2012, Roger, accompanied by Cisco's Neil Crockett, joined us to discuss the role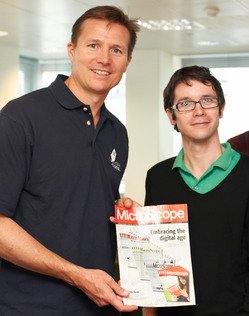 None other than Olympic silver medallist Roger Black dropped by to visit MicroScope.co.uk and our sister title ComputerWeekly.com today in our swanky West End digs.
With a year to go before the opening ceremony for London 2012, Roger, accompanied by Cisco's Neil Crockett, joined us to discuss the role of Cisco in providing the network infrastructure that will carry all voice, video and data traffic for the games.
Cisco kit will connect 100 locations around London and across the UK, including 36 competition venues, 26 further venues such as the Olympic Village, and around 50 other spectator and athlete sites.
The immense networking project, said Neil Crockett, who is MD of Cisco London 2012 (before that he was head of public sector) will be far bigger than that mounted for Beijing 2008, if only because technology has come on so far in four short years.
Just think back to the last Olympics, when the iPhone was just a year old, the App Store had only just opened, and Twitter had yet to take off in any meaningful sense.
Unlike Beijing, the network will have to handle not just the needs of the Olympic staff and volunteers, not to mention the athletes, but will have to cope with the impact of literally millions of devices making millions of demands a second.
Although there's not really scope for the channel to get involved in the Olympic IT project there are still other ways for resellers to make their mark during the greatest show on Earth.
Across London's hospitality and tourism sector a small army will be deployed during the Olympics as the city's tourist population swells to new heights, resulting in further demands on the network.
And if you, like myself, were one of the disappointed millions who lost out in the controversial ticket ballot earlier this year, you'll no doubt be trying to watch the games from the office, adding strength to the arguments for network investment to support increased video usage or facilitate remote working employees.
Without a doubt, the networking channel will have a huge role to play.
MicroScope+
Content
Find more MicroScope+ content and other member only offers, here.