No network on the high seas for Captain Bligh
How the world has changed; Captain Bligh sailed a thousand miles across the South Pacific in an open boat with just a sextant, a compass and sheer dumb luck to guide him after being chucked off the Bounty. But nowadays you wouldn't think of attempting to sail the seven seas without a battery of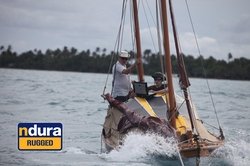 How the world has changed; Captain Bligh sailed a thousand miles across the South Pacific in an open boat with just a sextant, a compass and sheer dumb luck to guide him after being chucked off the Bounty.




But nowadays you wouldn't think of attempting to sail the seven seas without a battery of comms kit. Satellite phones, GPS and an Internet connection of some description have made themselves indispensable to the modern yachtsman.




Spare a thought then for Aussie adventurer Don McIntyre and a four-man crew, who are lending authenticity to their attempt to recreate Captain Bligh's famous 1789 voyage by taking, well, none of the above save an emergency rugged laptop from mobile computing specialist Blazepoint.




The 4,000-mile odyssey, which started in April on the 221st anniversary of the mutiny on the Bounty, will take the crew around Fiji - where Bligh recorded he was chased by cannibals - Vanuatu, down to Queensland in Australia, and then up the Great Barrier Reef, finishing their journey in Timor.




"The laptop is the hub of our communications and permits us to update our blog on route," said McIntyre of his sole concession to the 21st Century.




"In addition, if the chips are down and we need GPS support, we want to make damn sure that the computer on which we'll be accessing its functions operates regardless of the surrounding conditions," he said.




Besides providing a good photo op for Blazepoint, the expedition will also be raising funds for the Sheffield Institute for Translational Neuroscience, a leading UK centre for research into motor neuron disease.



MicroScope+
Content
Find more MicroScope+ content and other member only offers, here.