Lord Sugar's Twitter meltdown
The pressure of fame is clearly getting to Lord Sugar who was this week replaced as business tsar by former Tory Cabinet Minister Lord Young. Not only has he lost the reasonably high profile job that was created for him by previous PM Gordon Brown but it appears that His Sweetness is at risk of los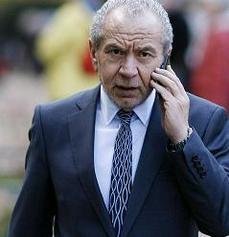 The pressure of fame is clearly getting to Lord Sugar who was this week replaced as business tsar by former Tory Cabinet Minister Lord Young.
Not only has he lost the reasonably high profile job that was created for him by previous PM Gordon Brown but it appears that His Sweetness is at risk of losing favour with followers on the social media scene.
This morning Radio One DJ Chris Moyles told people to stop following Sugar on Twitter because he uses it as a platform to plug his autobiography. I can vouch for this as I have been a Sugar devotee on Twitter for some weeks now.
Responding to the jibes, Sugar went into some sort of Tweet meltdown, accusing Moyles of being a hypocrite and creatively suggesting other topics he could focus on.
"Dear Chris Moyles, if you want me to talk about other things, lets discuss the plight of the common earth worm and how it's is (sic) the gardeners friend," he tweeted.
The meltdown continued: "U want to hear personal stuff instead book or biz tweets. I'm 5'8, weigh 76kg, suffer excessive wind if eat too much broccoli."
Bit too much information there, Lord Alan. I'll remember that tonight when I'm watching The Apprentice and pity your poor wife who is probably sat on the sofa next to you trying to escape the faint smell of rotting vegetables.
Lord Sugar also routinely reminisces about revolutionary old Amstrad and Viglen technology, apparently he invented the tablet platform years ago but it was too advanced and customers were not ready for the vPad revolution.
He stepped down as Viglen chairman last year when he was given the enterprise tsar gig by Labour so will have more time on his hands now to steer R&D at the UK education specialist.
Perhaps that is why he is grumpier than usual.
Photo courtesy Gavin Rodgers, Rex Features

MicroScope+
Content
Find more MicroScope+ content and other member only offers, here.