Google chief: Nokia should've gone with us
As if yesterday's damning analysis by analyst Will Gibbs at IHS iSuppli was not clear enough on the subject,executive chairman and former CEOof Google, Eric Schmidt, has now stuck his oar into the furore surrounding Nokia and Microsoft's decision to jump into bed with one another. At hiskeynote spee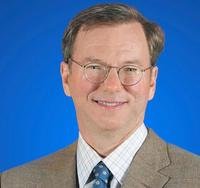 As if yesterday's damning analysis by analyst Will Gibbs at IHS iSuppli was not clear enough on the subject, executive chairman and former CEO of Google, Eric Schmidt, has now stuck his oar into the furore surrounding Nokia and Microsoft's decision to jump into bed with one another.
At his keynote speech at Mobile World Congress in Barcelona, Schmidt revealed that Nokia and Google had held talks over the possibility of adopting its Android operating system.
"We would have loved that they had chosen Android. They chose the other guys, that other competitor, Microsoft. I think we are pretty straightforward.
"We would like them to adopt Android at some point in the future and that offer remains open. We think Android was a good choice for Nokia. We are sorry they made a different choice," said Schmidt.
Nokia, which has lost up to 20 per cent of its value since last Friday's announcement, is thought to be unlikely to be able to bring a Windows 7 device to market this year, although obviously nobody really knows how quickly it would have been able to move on Android.
In a tubthumping speech and Q&A session yesterday, Schmidt praised the Android platform to the skies, claiming that over 300,000 new Android devices were being activated daily with access to over 150,000 apps (as of late April 2010 it had barely 50,000).
Schmidt would not, however be drawn on whether or not Google might buy Twitter, saying only that he loved to tweet. He also said that he was not too concernced about a competitive challenge from Facebook, noting that Microsoft's Bing search engine was actually a stronger competitor, and also had some good words for Google employee Wael Ghonim, who was arrested during the Egyptian revolution.
Photo courtesy: Google
MicroScope+
Content
Find more MicroScope+ content and other member only offers, here.