2Ergo puts you in touch with Sir Philip Green at the Retail Week show
The one on the right is Sir Philip Green, CEO of Arcadia Group. The one on the left is his wife, who lives in Monaco and is exempt from paying taxes in the UK. You'd have thought he wouldn't begrudge paying taxes in the country that made him so rich, wouldn't you? Delegates at the Retail Week Confer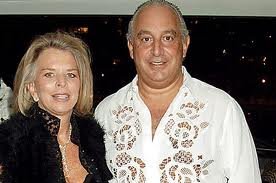 The one on the right is Sir Philip Green, CEO of Arcadia Group. The one on the left is his wife, who lives in Monaco and is exempt from paying taxes in the UK. You'd have thought he wouldn't begrudge paying taxes in the country that made him so rich, wouldn't you?
Delegates at the Retail Week Conference can use a mobile platform to speak to delegates such as Digby Jones. And BHS boss Philip Green.
For publishers, conference and event professionals the system, supplied by mobile marketing experts 2Ergo, exemplifies how mobile can add value to an event. This is turn will attract delegates and improve margins.
At the Retail Week event, for example, you can put questions to the celebrity guests.
Why are you so wonderful Sir Philip? That would be a typical Retail Week question, when I was there.
Or, you might like to ask the BHS boss this: Why do you avoid paying your tax in this country? Aren't you rich enough? Are you happy to profit from us but avoid your duty?
Delegates can ask Green why he avoids paying tax, using a mobile website (mSite), which also contains maps, Twitter feeds, timetables and updates.
Hooray for 2Ergo, for giving us this chance to catch up with Sir Philip Green and showing what we think of him.
MicroScope+
Content
Find more MicroScope+ content and other member only offers, here.