Why Lady Gaga's driving habits should get you worried about security
What with riots in London and Manchester, fall out from the News International phone hacking scandal and the ongoing worldwide economic crisis, not to mention Google's acquisition of Motorola and HP's sudden bloodbath, we'd almost forgotten it's meant to be the silly season. So what, then, do Lady G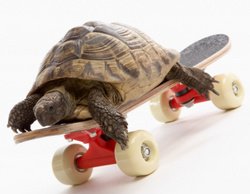 What with riots in London and Manchester, fall out from the News International phone hacking scandal and the ongoing worldwide economic crisis, not to mention Google's acquisition of Motorola and HP's sudden bloodbath, we'd almost forgotten it's meant to be the silly season.
So what, then, do Lady Gaga, Ashley Cole and Christine Bleakley have to do with IT security?
Well, a history of high-speed crashes, all-night partying and silly footwear has meant celebs don't have the best reputation behind the wheel.
For this reason, security firm PC Tools decided the obvious thing to do was ask the great British public which celebrity they would least like to have driving them around for a day.
The poll of 1,000 drivers revealed that sitting in the passenger seat next to burlesque pop minstrel Lady Gaga would have them pumping an imaginary brake pedal...
Second placed Ashley Cole, an infamously bad driver, was followed closely by a complete nobody from some reality show about Essex.
To keep Ashley company, Cheryl also made the top 10, as did Jeremy Clarkson and Nick Clegg as respondents thought that repeatedly punching him in the face would likely distract him from the road.
To make things even, the survey also found that Brits would enjoy being chauffeured by Prince William, Sir Trevor McDonald, Jenson Button and David Cameron, however implausible that might be.
So here's the link, people. According to the survey results, poor concentration and arrogance lead to recklessness on the roads, and poor concentration and arrogance ALSO leads people to believe they won't fall victim to security breaches or cybercriminals.
Phew, so we got there in the end. 'Nuff said, reckons Reseller Radar.
PC Tools and Onechocolate Communications. MicroScope salutes you!
Photo courtesy: BananaStock
MicroScope+
Content
Find more MicroScope+ content and other member only offers, here.