Speak&Go - the mobile navigator that talks you through London's travel chaos
It's dreadful I know, butthe columnstill gets lost in London andit's lived here forever. You'llwander round Shoreditch for days, rather than bite the bullet and getout theA to Z, for fear of being identified as a tourist or, worse, a south Londoner. (Althougha bad haircut and M&S suit should be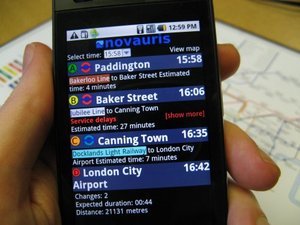 It's dreadful I know, but the column still gets lost in London and it's lived here forever.
You'll wander round Shoreditch for days, rather than bite the bullet and get out the A to Z, for fear of being identified as a tourist or, worse, a south Londoner. (Although a bad haircut and M&S suit should be a dead giveaway)
Online journey planners? They're hopeless once you've started your journey and the latest problem on the Bakerloo line has kicked in.
So thank goodness for Speak&Go London, a mobile app from Cheltenham-based Novauris Technologies. Before starting your public transport journey, you speak to your handset. Its voice recognition software lets you tell your iPhone or Android where you want to go (Clapham Junction to Canary Wharf) and your handset works out your best journey, taking into account all the latest strikes and leaves on the line.
It then tells you which lines to take, where to change, the times of the trains and the expected journey time. It even factors in the walking time! Superb. Nothing, not even the Docklands Light Railway or the Heathrow Express, can phase it. Speak&Go even knows 100 major landmarks, like the London Eye and the Eternal Roadworks at Waterloo Station.
the most valuable improvement in brings is it knows all the line closures and delays - unlike information intercom people at Clapham Junction.
You don't need to know this next bit. But here goes. It works by using Novauris' automatic speech recognition. The smartphone displays the journey that it thinks it heard, together with some possible alternatives in case the top choice isn't right. The user taps on the journey required and the app goes off to the Transport for London website to get the latest information on that journey. The app then displays the information (see photo).
You don't have to type in your journey details using a virtual keyboard. "Personally, I find them slow and irritating to use, even when it isn't cold," says creator Melvyn Hunt. "You can use this app while walking down the street without the risk of colliding with a lamp post."
Novauris hasn't launched it yet as a product, as they would prefer to sell through a third party. Here's your chance resellers!
As this is a great potential product for tourists, they are busy putting American accents into their speech recognition database.
They plan to include the locations of the various sports venues in time for London 2012.
MicroScope+
Content
Find more MicroScope+ content and other member only offers, here.