Omnisense geopositions everything - can pinpoint a randy cow with military precision
It's one of the tragedies of the modern technological age. Each new invention is ruined by somebody trying to turn it into a marketing tool. There are other ways of monetizing scientific breakthroughs. What's wrong with good old fashioned porn? That's what they did in my day! But oh no, the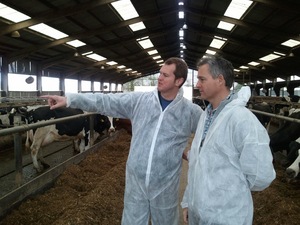 It's one of the tragedies of the modern technological age. Each new invention is ruined by somebody trying to turn it into a marketing tool.

There are other ways of monetizing scientific breakthroughs. What's wrong with good old fashioned porn? That's what they did in my day!




But oh no, the marketing directors of the world won't be satisfied until every last moment of our lives is interrupted by some trying to 'engage' us, in a 'compelling conversation with a brand'.




So hats off to the boffins at Cambridge based Omnisense, inventor of a new type of positioning technology. Unlike the GPS crowd, who seem intent on adding another dimension onto our positional data so that marketing managers can target adverts at you, Omnisense seems to want to benefit society.




Omnisense's geo spatial technology uses devices that talk to each other and then, by calculating their relative position, create their own map of where everyone or everything is. So it can work in buildings is more accurate and penetrative than both consumer-grade GPS and RFID.




If a team of fire fighters used it, it would take all the guesswork out of knowing where a missing team member might be. "For the same reason, the Army, who are seeking local positioning alternatives to GPS (which is easy to jam), could use it to to find missing soldiers.




It could be used to spot a good milker too. In Dairy Farming, it's vital to identify where a cow is in her estrogen cycle. If she is ready to mate, her movements become much more marked.

Analysis of Omnisense's tracking system could bring this to the farmer's attention immediately and he could get the cow knocked up in no time. End result: cows mate more time efficiently and are milking with minimal delay.




In all three cases, Omnisense is helping society by pinpointing where we are - either in a smoking building or on our estrogen cycle. And it isn't using technology to worsen people's lives through aggressive marketing.




So hats off to CEO Andy Thurman.



MicroScope+
Content
Find more MicroScope+ content and other member only offers, here.