Five minute interview: Mark MacGregor, Connect
Microscope puts questions to Mark MacGregor, chief executive of SME business continuity provider Connect What is the best/worst advice you have received? "Always support your local football team."
This Article Covers
RELATED TOPICS

Download this free guide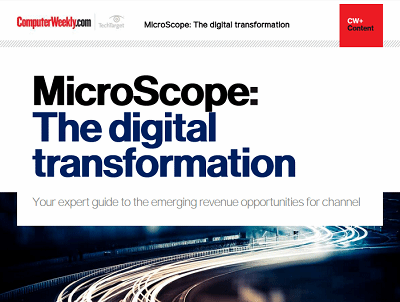 Emerging revenue opportunities for the channel with digital transformation
Digital transformation is a phrase that means many things to many people but for it to have any real relevance to the channel then it needs to mean a chance to make money. This guide will share some of the recent developments in the channel and the latest thoughts about the issue.

By submitting your personal information, you agree that TechTarget and its partners may contact you regarding relevant content, products and special offers.

You also agree that your personal information may be transferred and processed in the United States, and that you have read and agree to the Terms of Use and the Privacy Policy.

Microscope puts questions to Mark MacGregor, chief executive of SME business continuity provider Connect

What is the best/worst advice you have received?
"Always support your local football team." The outcome of following that advice has been a lifetime of misery supporting Crystal Palace.

What is the best book you've ever read?
Very tricky question. If I had to choose two, it would be 'I am Charlotte Simmons' by Tom Wolfe and 'Middlemarch' by George Eliot.

Tell us something most people do not know about you.
I have given up alcohol and caffeine until 18 April 2011. I am in training for the London Marathon 2011 when I will be running for an amazing charity called Whizz Kidz that aims to help disabled children live independent lives.

What temptation can you not resist?
I can never resist opening an unread e-mail. Whether it's the red light flashing on my smartphone or an unopened envelope in Outlook, curiosity always gets the better of me. I have one golden rule though: never to open an e-mail during a meeting.

What is your most elusive goal?
Reducing my golf handicap remains on a distant horizon.

Where is the one place you'd like to visit before you die - and why?
It would really have to be the Antarctic. I would love to follow in the steps of Shackleton and Scott (albeit with rather better equipment).

Which bit of technology would you want with you if you were stranded on a desert island - and why?
I would want an e-reader loaded with every book that has ever been published. That would keep me occupied while I wait to be rescued (provided I could charge it up - so maybe throw in a solar charger).

Who helped you get to where you are today?
My grandmother has been a very significant in my life. She taught me to read and encouraged me to learn at school. Later in life, she helped to foster a sense of ambition and motivation - and it is that which led me to set up a number of successful businesses.

What was your first car and how does it compare with what you drive now?
My first car was a BMW 3 series in 1988. It had the same number of seats, the same 0-60 and the same colour (black) as my car today but there was a lot less room than I need now for everyone else's luggage.

What do you believe in most?
Richard Dawkins' Atheism.

Do you have any pets? If so, what are they and what are their names?
I have two pets - a fearsome chihuahua called Meisha and a courageous mouse-catcher cat called Milly.

If you could be someone else for a day, who would you be and why?
I know it is fashionable to knock politicians, but it would be Tony Blair when he first came to power as prime minister in the late 1990s. He had the majority in the house and the support of the electorate to make the major changes that the country needed. Sadly his good intentions were blocked by his neighbour in No 11 Downing Street.

Who would you least like to be stuck in a lift with?
Mark Kermode - the BBC Five Live's acerbic film critic. I am not sure I could listen to him in full rant mode.

Describe yourself in one sentence
Not very good at relaxing.

Why are you good at your job?
I am passionate about what my company Connect does. I also have had a wide range of experiences in different types of roles including work in politics and marketing. I often think this gives me an alternative perspective to many people in the Channel.

If you were shipwrecked, who would you like to have with you and why?
Butch Harmon for endless golf lessons; Bruce Springsteen for music and Gwyneth Paltrow to make the cocktails.

Name three items (smaller than a fridge) that you would like to have with you if you were shipwrecked
An Italian-made coffee machine (plus endless supply of beans, milk and cups); my iPhone for entertainment and to keep in touch with news and sport; and a Smith & Wesson M&P-15 rifle to help me survive.

If you could be any animal for a day, what would you be?
I would be an elephant. Strong and majestic, they're the kings of the jungle.

If a grizzly bear and a silverback gorilla decided to have a no holds barred fight, which would you put your money on and why?
I'd opt for the one with the friends and family offering support nearby.

Do you prefer cities or the countryside?
During the week, I like to be in the city for work, entertainment and restaurants. But at weekends, I prefer the countryside to recharge batteries.

Sum up the IT channel in one sentence
The IT channel is entrepreneurial, opinionated, idiosyncratic and hard working.

MicroScope+
Content
Find more MicroScope+ content and other member only offers, here.
Read more on Sales and Customer Management