Cycling along to a good sponsorship opportunity
As well as the Pope driving round the streets of London tomorrow there is the little matter of the final stage of the Tour of Britain. Just shy of 100 riders have spent the last seven days pedaling across the UK battling it out for the victory in our home grown alternative to the Tour de France. Ea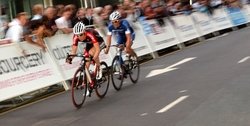 As well as the Pope driving round the streets of London tomorrow there is the little matter of the final stage of the Tour of Britain.
Just shy of 100 riders have spent the last seven days pedaling across the UK battling it out for the victory in our home grown alternative to the Tour de France.
Each night there have been highlights on TV and each time the yellow jersey or stage winner has been interviewed he has stood in front of a logo covered background.
One of those logos comes from Outsourcery. Now you might be thinking that this is just another example of the IT industry sponsoring a sporting event. While that might be the case what is certainly true is that it is a clever choice of event to back.
Cycling is growing in popularity, is green and with the money that Sky, which now has a cycling team, is pouring in to it is getting the sort of exposure to TV that it has deserved for a long time.
It also helps that Piers Linney, joint CEO of Outsourcery, is a keen cyclist and will be there tomorrow handing out the awards to the winners.
Whether the decision to be the official technology partner was made out of personal passion or not it is a wise choice and illustrates how branding can be more visible when it is associated with a select group of sponsors.
MicroScope+
Content
Find more MicroScope+ content and other member only offers, here.