Cisco Cius tablet set for spring launch
Over in the US, Cisco's long-anticipated Android-based Cius tablet has finally hit the FCC for testing. This is the a firm indication that wewill be seeing them in the wild very soon. Documents filed with the FCC by OEMer OpenPeak, who look to be building the device for Cisco, reveal that the tablet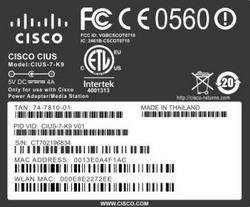 Over in the US, Cisco's long-anticipated Android-based Cius tablet has finally hit the FCC for testing.
This is the a firm indication that we will be seeing them in the wild very soon.
Documents filed with the FCC by OEMer OpenPeak, who look to be building the device for Cisco, reveal that the tablet now has approval for 802.11a/b/g/n wi-fi and Bluetooth.
However, the FCC's reports, available here, make no mention of 3G. Make of this what you will...
Confidential parts of the FCC's report are to be released on 27 June this year, a firm pointer to a spring launch date.
MicroScope+
Content
Find more MicroScope+ content and other member only offers, here.