Download: BI Roundtable – Intelligence Gathering
The Business Intelligence (BI) market has evolved over the past three decades. In the 1980s, BI was just about reports focusing on past data and it wasn't until the 1990s that vendors recognised the need to drill into the data so customers are able to find out why things happened. In the 2000s, vendors realised that giving 'power users' tools was not delivering much value, so they ushered in the era of dashboards to address the larger audience of casual users, so more people could use data. It was also not just looking in the rear-view mirror but looking at how things were working at the time and how they were tracking to plan. Historically, we can see a trend that every 10 years the market changes – so with this in mind we look at the changes that are facing vendors now.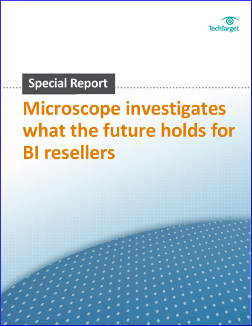 BI Roundtable – Intelligence Gathering
As the Business Intelligence market generally sees changes every 10 years, we look into the challenges that are currently facing vendors and what they can expect going forward.
Download now for advice from leading industry experts.
By completing this download you'll also become a Microscope+ member, free of charge.
Member benefits:
- Premium members-only resources
- Problem-solving content across all technology topics
- Buyer's Guides to aid purchasing decisions
- Chapter downloads and book discounts
- Weekly and monthly digital publications
- Market research and vendor white papers
- Unhindered readership of expert insights
- IT knowledge exchange online community
- Exclusive invitation-only events