Is your business prepared for the zombie apocalypse?
The BBC is today reporting that Leicester City Council has been forced to admit it is unprepared for an attack by hordes of flesh-eating zombies following a Freedom of Information request.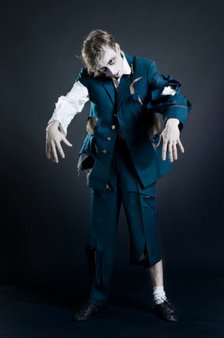 The BBC is today reporting that Leicester City Council has been forced to admit it is unprepared for an attack by hordes of flesh-eating zombies following a Freedom of Information request.
According to the Beeb, the council's information governance head Lynn Wyeth said she was "unaware" of any contingency plans to deal with a zombie invasion in the East Midlands.
Wyeth added that existing elements of the council's emergency plan could be pressed into service should the worst happen.
Of course, in the event that the dead did rise from the grave, you could expect to see an immediate impact on UK Plc as terrified employees barricaded themselves into their homes to wait out the zombie apocalypse.
The cost to the economy could run into the billions, a spokesman from the FPB would say.
But it needn't have to be that way...
Daftcon provides world-leading video solutions to businesses hit by zombie attack
Reading, 28th June 2011
The past few weeks have seen a number of increasingly severe zombie attacks following the release of a seemingly unstoppable virus from a secret laboratory. As the government declares martial law and the Royal Family are evacuated to New Zealand, Daftcon, the leading provider of video and remote working solutions to UK firms, is encouraging businesses to ensure that they enable workers to continue to do their jobs remotely. Equipping them in this way will enable organisations to avoid the risk of productivity being impacted, loss of earnings and giving competitors the upper hand.
Jeff Quoteable, Product Director of Video and IP at Daftcon said: "Today's disruption serves as yet another reminder that businesses need to put contingency plans in place to deal with unforeseen events. If workers are trapped in their homes by the ravenous minions of the damned and are unable to travel to meetings or to the office, the effects on project deadlines and productivity can be considerable.
"Yet this can often be avoided, by employing remote collaboration tools, such as videoconferencing, teleconferencing and desktop sharing, which allow workers to meet up virtually and avoid the possibility of infection from zombified colleagues. Workers that are barricaded in airports or stations could even continue to work by securely connecting to a Virtual Private Network over Wi-Fi."
"Companies that already use remote collaboration tools on a daily basis will be well aware of the cost and time savings that can be generated by meeting virtually. Significant reductions can be made to the amount of time that staff spend travelling to and from meetings, and the cost of flights and train tickets can also be cut. All businesses face unexpected disruption like this from time to time, yet while it may be impossible to predict the next big event that will impact your business, that does not mean that you cannot prepare for it in advance."
Daftcon is opening up its demonstration telepresence suites in London, Reading and Manchester to customers stranded by the zombie hordes.
"Daftcon wants to give stranded customers the ability to continue mission-critical business and visual collaboration is a very good way to work around the travel restrictions because HD-quality face-to-face meetings can continue to take place," said Quoteable.
Customers interested in taking up this special offer should be sure to equip themselves with rudimentary weaponry and supplies of tinned food. To avoid military curfew restrictions you are also advised to travel at night.
"There are fifty survivors at our Reading office. We have batteries and blankets but the water cooler hasn't been replaced in five days and we are running out of biscuits. Please send help. They're outside in the car park ... oh ... Brian, get the fire axe. It's coming through the window! Aaaaauuurrrgh!" added Qu...
Read more on Network Infrastructure Solutions and Services