WavebreakMediaMicro - stock.adob
Collaborative and social the themes of vendor office designs
HPE and Brother are just two examples of vendors that have decided the old office is no longer fit for purpose
The enforced shift to home working as a result of the coronavirus pandemic has sparked a debate about hybrid working and given many firms an opportunity to rethink how they operate.
Although some businesses have postponed the return to the office, others have attempted to get back to pre-Covid operations and there are many that have taken the experiences of the past 18 months as an opportunity to reinvent the approach to the working environment.
HPE has opted to cut the ribbon on a couple of collaboration hubs, in Manchester and Reading, as it looks to enabled more flexibility for staff. The latest hubs follow changes the vendor made to its facilities in Bristol and Glasgow to foster a more collaborative and social approach.
"In business, people ultimately make the difference and HPE has long been a leader in workplace flexibility," said Marc Waters, svp and managing director for UK, Ireland, Middle East and Africa at HPE. "Trust and empowerment are core to our culture, with a commitment to talent development and high performance. To stay ahead of our competition in the battle for talent, we have redefined our work spaces and policies to implement a bold edge-to-office vision.
"The workplace isn't a 'place', as such. It's a culture, it's how we collaborate and, ultimately, it's the way we do things. We continue to invest in tools and resources to keep team members connected and promote collaboration, for both in-person and virtual environments. Our new collaboration hubs are designed to enhance team working and increase the value of the time we spend together."
Office designers have been busy in the Manchester area, with Brother also redesigning its headquarters earlier this month to make it more collaborative and social.
The firm will have 90 employees working from the office three days a week, with the flexibility of home working. The HQ now has more meeting rooms, breakout areas and hot-desking areas.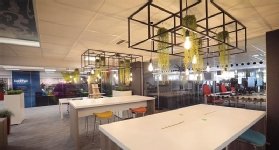 "The pandemic ripped up the working rulebook and we want to establish a new organisational design that continues to stay relevant," said Phil Jones, managing director of Brother UK. "Homeworking has undoubtedly provided our employees with greater flexibility in their personal lives, but the last 18 months has also underlined the office's value for providing purpose and social cohesion. We want to find a balance that works for our people and our business.
"Hybrid working needs to be far more than just a change to working contracts – we want coming to the office to be about human interaction and experiencing the energy of being around your colleagues."
Examples of reactions to hybrid working are cropping up across the corporate landscape, not just in the IT industry, with Ed Stirzarker, vp northern EMEA at Forcepoint, sharing a personal example from last week. "Hybrid working is here to stay," he said. "I was speaking to a customer only this morning. They're a big, highly regulated organisation in the utility sector and they look after some of our critical infrastructure.
"They've already closed a number of their offices and are in the process of selling them. They've told their staff, 'We're not replacing those offices – if you live in these locations, you are now becoming a permanent remote worker'. That is one example, but I've had that conversation with many, many customers."