Download: Technology Priorities for 2013
As new technologies emerge and past IT stalwarts become passé, forward-thinking organisations must constantly reprioritize based on their tech wants, needs and budgets.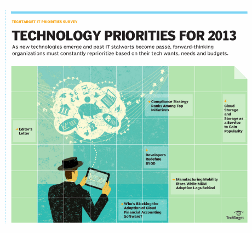 Download Technology Priorities for 2013
Where are IT organisations spending their precious IT funds in 2013? Find out which priorities have increased in importance and which ones have fallen behind.
Our independent report focuses on the rise and fall of compliance, cloud storage, BYOD, mobility and the other hottest topics around your peers. As well as graphical representations of the results, we also provide expert opinion and continued explanation.
Member benefits:
• Instant access to our library of premium content
• Each week's issue direct to your inbox, free
• Uninterrupted readership of guides and features
• Invites to our exclusive events
• And much more
Read more on Salesforce Management