What is This?

What is This? Close

What is This?

Sponsored Content is a special advertising section provided by IT vendors. It features educational content and interactive media aligned to the topics of this Web site.
Featured Video
The IBM and Wimbledon Story 2013

Learn how IBM's cloud services manage data to create a rich digital experience for Wimbledon fans.
Additional Videos
A roadmap to the Cloud - how to make the move for your business

Learn what organisations need to consider in order to transition to cloud computing.

Cloud Computing: Innovative Cloud Solutions from IBM

Learn how innovative cloud solutions are opening new possibilities for leading organisations.

Powering Cloud Adoption with IBM SmartCloud Foundation

Learn why organisations are moving to the cloud, and how IBM SmartCloud Foundation enables adoption.

Interview with Doug Clark at Cloud Expo Europe 2013

Gain insight into cloud computing trends and enterprise priorities.

Sunderland City Council Cloud

Members of the Sunderland City Council share their cloud adoption story.

How Cloud Is Changing the Way You Can Run Your Business

Learn what challenges CIOs face when choosing to innovate in the cloud.

Social Media Tools and the Enterprise Cloud

Social business tools can help organisations facilitate innovation and collaboration.

The Evolution of the Cloud, and What It Means for CIOs

An expert weighs in on how the cloud has got to where it is now, and its future.
Essential IBM Cloud Resources
Featured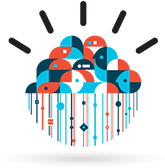 Cloud & Outsourcing - Why Partnering Strategies Matter
Explore how outsourcing motivations have changed and why you should adapt your sourcing strategies to keep up.