Remote infrastructure management: Eightfold path to nirvana
An organization's choice of partner should be driven by the interplay of three different, ever-changing forces.
An organization's choice of partner should be driven by the interplay of three different, ever-changing forces: the capabilities and assets the organization has; the business objectives, values and aspirations it has for future; and the options and realities available in the marketplace. One needs to fit together the three important puzzle pieces below while selecting a partner.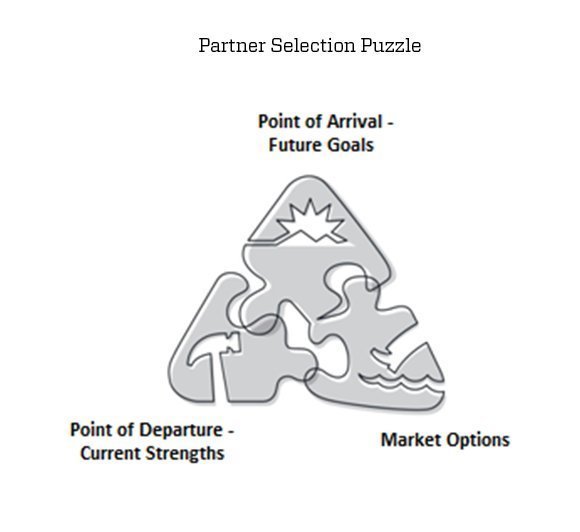 To choose a partner that can deliver faster, cheaper and better services, one has to look at the following critical factors that determine success of a partnership:
Fit for size: Big is not always better. "One size fits all" is a myth when it comes to remote infrastructure management. Every partner will have their own sweet spot. While large partners can bring the benefits of scale and a global delivery model (GDM), nimble players offer flexibility, agility and customization that cannot be matched by their larger peers. Smaller partners are often more inclined to invest in partnerships and adopt a "customer for life" philosophy. Hence, it is important to select a partner whose capability matches with the size of engagement planned. One has to adopt a "horses for courses" approach and choose based on cultural fit and the ability to bring in the desired focus for the size of operations, which is outsourced. Most importantly, don't get swayed by size; just check if you are looking at a dinosaur, which is big in size, or a cheetah, which is known for speed and agility.
Innovation and digitization. Beyond the obvious benefit of cost savings, automation and digitization also minimize the element of human error in IT operations. Hence, it is a clear differentiator while evaluating remote infrastructure management (RIM) partner capability. While evaluating this aspect, we need to look for relevant, RIM-specific tools and digitization initiatives rather than giving importance to high-end or companywide innovation initiatives. Look for partners that have tools that offer most of the commonly used functionalities at a fraction of cost when compared with traditional tier-one enterprise tools. Map the tool features using the following two-by-two matrix and adopt those partners that have 80-20 ratio of tools philosophy (i.e., 80% of features at 20% cost). The ease of implementing and customizing the tool is also a critical factor since, often, needs are not constant and clear up front. It emerges and gets shaped as you grow and as the world changes.

POCs and pilots. It is very important not to get carried away by the sales pitch in a PowerPoint presentation. We should gather a lot of information on possible partners from a public domain and insist on the demonstration of the said features and benefits through proof of concept (PoC) implementations and pilots. This will help in getting the comfort of WYSIWYG, or "what you see is what you get."
Point solutions. Partners having end-to-end capability will have a holistic view of dependencies and the business impact of the technology managed by them. Most vendors have a similar portfolio of services. It is prudent to look at the "offerings" taxonomy and check whether they have an "all in a box" kind of "point" solutions for specific challenges/pain areas you are looking for (e.g., devtest environment management in a box, database drift management, etc.).
Quality and KM. Having industry and process accreditations have ceased to be a differentiator for IT organizations because it has become the norm. It is important to check the partner's commitment to business excellence. Choose partners with leaders who have strong beliefs and can drive quadrant 2 initiatives, such as quality and knowledge management (KM) passionately. Shortlist those who have implemented Malcolm Baldridge or similar business excellence models, which emphasize the significance of a balanced scorecard and "lead measures" related to people, process and customer satisfaction. The implementation evidence of continuous improvement frameworks and methodologies such as Six Sigma is an added advantage.
Transparency and outcome-based models. Mature partner organizations are capable of bringing transparency into IT management metrics. Look for partners who give the business impact analysis and are able to map the business applications with underlying infrastructure and offer service levels based on criticality and differentiated packaged solutions. A truly transparent partner will be able to give customers an online dashboard with a visibility of the same metrics as the partner organization. Traditionally, infrastructure management operations has been a black box that incurs cost without visible impact on business outcomes. An approach based on service level agreements and outcome-based pricing models ensure that the RIM costs have a strong positive correlation with business impact and outcomes.
Scalability. Skill availability is a critical issue for CIOs and technology managers across industries. Look for partners who have a mature "skills manufacturing belt" with the ability to transform high-potential campus hires into technology practitioners. In addition, one has to look for partners that have capabilities to bring in multiskilled and cross-skilled resources in line with the desired efficiencies. Rather than an "Inch wide-mile deep" skills approach, one has to cultivate expertise in a couple of technologies and level 1 skills in multiple skills. This helps resources get a larger perspective and also deliver quicker problem resolution.
People practices. Often, retention metrics are put forward to highlight talent engagement effectiveness. It is important not to be swayed by attrition numbers alone, get deep and understand the employee engagement initiatives. Since RIM requires a wide spectrum of skills, it is critical to bring in a sense of community among like-minded individuals with similar expertise. Initiatives such as Community of Practice, which provide "shared context" to associates, help to capture and diffuse existing knowledge and stimulate learning by collaboration. Talent engagement initiatives should create an extremely friendly, but also fiercely competitive, environment and help engage, excite and transform people.
Conclusion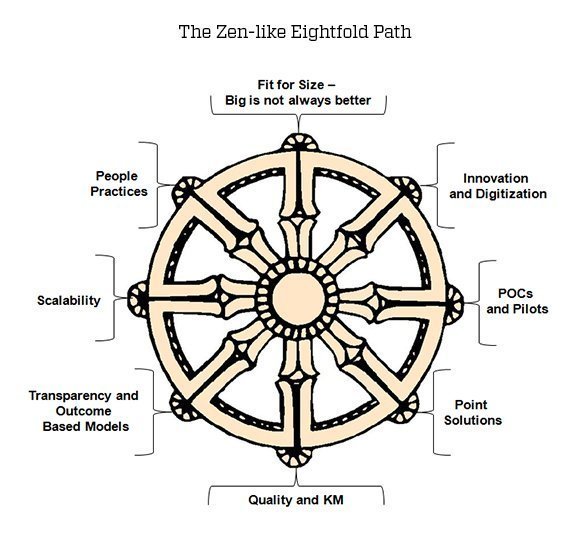 To summarize, the extent of coupling between clients' current maturity, its business objectives and partner capability defines success in RIM engagements. The ability to find the right partner can potentially be the difference between success and failure in IT transformation initiatives. Adopting the Zen-like eightfold path and skillfully evaluating partners will for sure lead you to outsourcing nirvana.
About the author
L Shekar is vice president and global head of Syntel's Infrastructure Management Services, a horizontal business unit focused on providing end-to-end IT infrastructure management services. He has been instrumental in building infrastructure management services from the ground up and shaping the business unit as one of fastest growing horizontals in Syntel. Shekar has more than two decades of experience in all facets of Global IT services. Shekar is an engineer with a master's in business administration and has completed an Executive Leadership Program at the University of Michigan's Stephen M Ross School of Business, which was led by Professor CK Prahalad and his team. A Transformational Leader and Growth Multiplier, he is a Certified PMP, Certified Datacenter professional, ASCB (UK) Lean-certified, Certified Competent Toastmaster, ITSM-certified and a certified Six Sigma Black Belt . A well-known thought leader in the Infrastructure services industry, Shekar has been a speaker and panelist in various industry forums. Over the years, he has been responsible for various innovations and frameworks that developed and transformed the IT infrastructure business. He has been a recipient of many business excellence awards in his career.
Read more on IT suppliers