Wireless networks in demand at India Inc: BYOD's aftermath?
TechTarget's survey of the Indian IT scenario reveals that wireless network is among the top networking priorities of Indian organizations this year.
What makes wireless networks the leading priority for Indian data center professionals in 2012? This query arose as we at SearchDataCenter.in perused the results of our survey across 746 IT professionals on IT priorities for Indian organizations in 2012. Our experts believe that 24x7 connectivity and mobility may be the key drivers. In addition to this revelation, we have more interesting results when it comes to the top networking priorities of Indian organizations this year.
Around 47.8% of our survey's Indian data center professionals opted for wireless networks as one of the top networking priorities for 2012. With reference to this finding, Girish Rao, the CIO at Marico Limited believes that with the emergence of new WiFi enabled (as well as mature in terms of security) devices like iPads and smartphones, wireless networks will be a relevant priority for Indian businesses in 2012.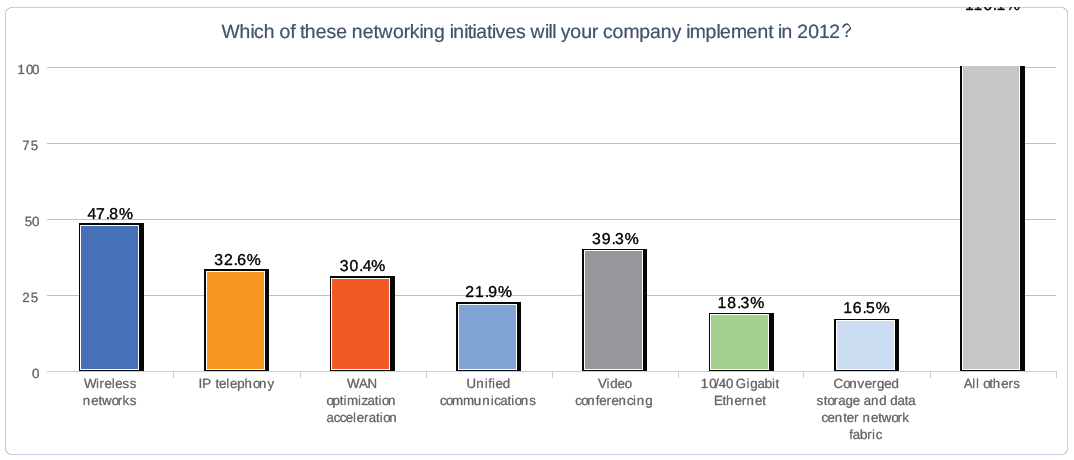 Figure 1. Networking projects for 2012
Citing the importance of mobility within and outside company premises, Shailesh Joshi, the vice president and head of IT at Godrej Industries Ltd believes that wireless networks is the need of the hour in India. "With Indian companies having multi-geographic locations, mobility and connectivity is of utmost importance," he says.
Among those who identified wireless networks as a priority for 2012, 42% of respondents accorded high priority to its adoption, where as another 50% accorded medium priority. This is a clear indicator of the presence that wireless network spends will have in Indian organizations' wish-lists this year.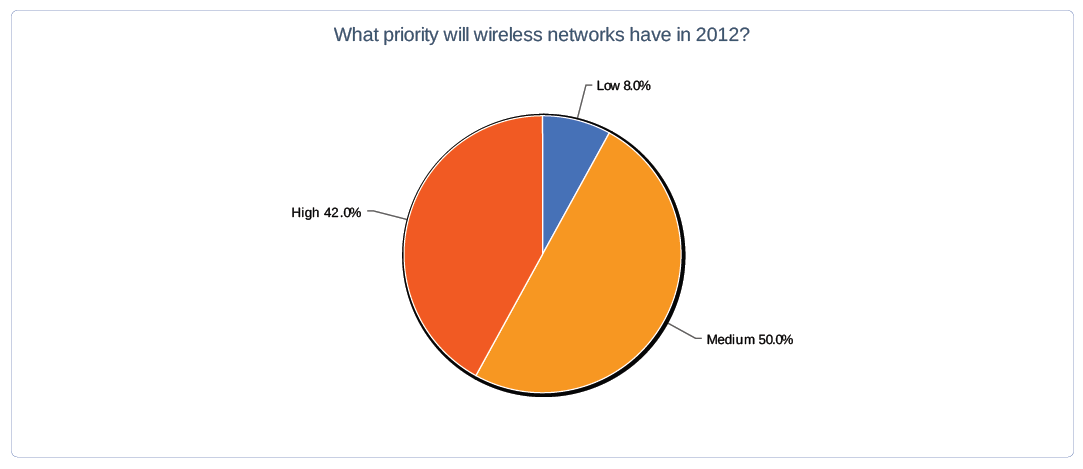 Figure 2. Wireless network priority
Elaborating further on the Joshi's view, Hilal Khan, the head of corporate IT at Honda Motors India, says, "Considering the time to deploy, cost of deployment, mobility and bandwidth for different users, wireless networks are becoming extremely popular, affordable, available and feasible. Barring mission critical applications and desk bound employees, others will be on wireless networks this year." He believes that wireless networks will gain relevance in verticals like manufacturing, education, health, hospitality and IT development.
Video conferencing sees upsurge: Finally?
With maturity of WAN technologies and networks in Indian organizations, it's now possible to have effortless and efficient video conferencing between various locations within the country. The precarious economic environment, coupled with high costs of travelling may be moving organizations towards adopting video conferencing as a choice to collaborate and integrate teams across various locations. This could be the key reason why 39.3% of our survey's respondents opted for video conferencing as the second most popular networking trend this year.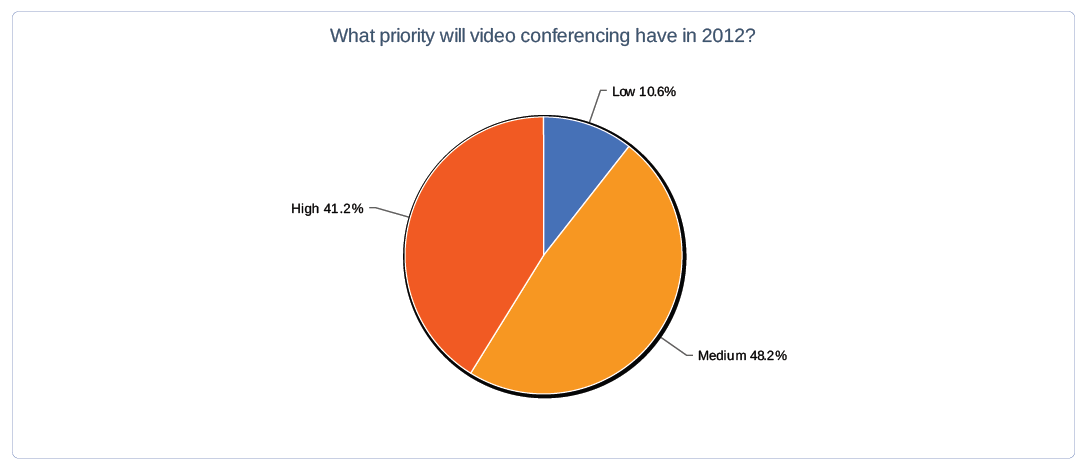 Figure 3. Video conferencing priority
According to Rao, the softer advantage of using video conferencing is that it eliminates the need to travel, leading to a better work life balance. "Video conferencing is an area where cost optimization can be addressed, while increasing efficiency. It helps both fronts — speed as well as cost," says Khan. Among the data center professionals who identified video conferencing as a priority in 2012, 41.2% of respondents accorded high priority to the technology.
IP telephony stands third in the networking race
Our survey reveals that 32.6% of Indian data center professionals expect a surge in IP telephony adoption during 2012. IP telephony offers the same level of collaboration as telephones, and at much cheaper rates. According to Rao, this could be the reason why these initiatives may receive a boost in 2012. On this front, Joshi observes that IP telephony makes sense for companies dealing with international clients.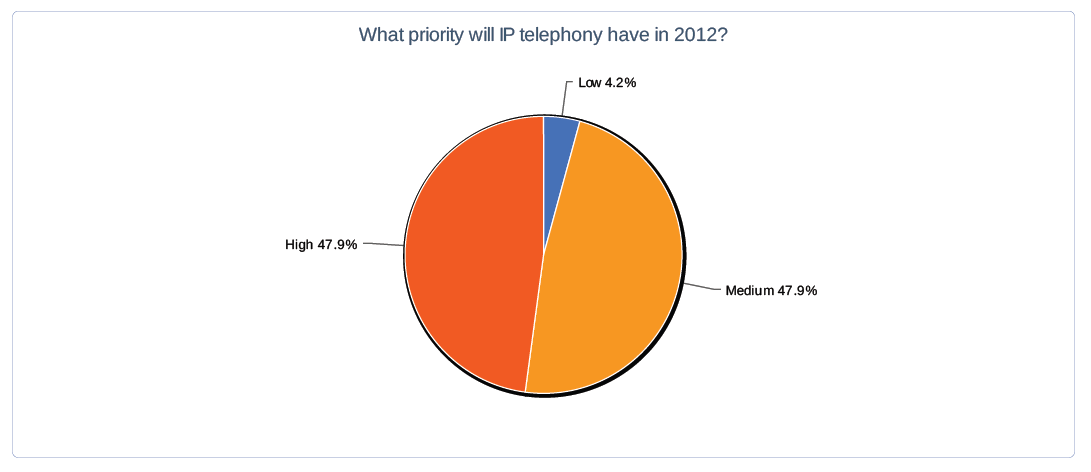 Figure 4. IP telephony priority
IP telephony, as per Khan, may be a good way to harness the potential of existing IT network infrastructure. He also believes that IT is moving away from traditional modes of communication, and IP is the future.
Converged storage and network fabric spends set to dip
Converged storage and data center network fabric items scored lowest in the networking priorities, with just 16.5% of respondents planning spends in 2012. Our experts believe that with storage as a service and storage virtualization gaining momentum, organizations may not want to invest in hardcore networking.
As a result, converged storage and data center network fabric become relevant only for service providers in the medium to long term. Big enterprises are right now playing the wait and watch game on this front.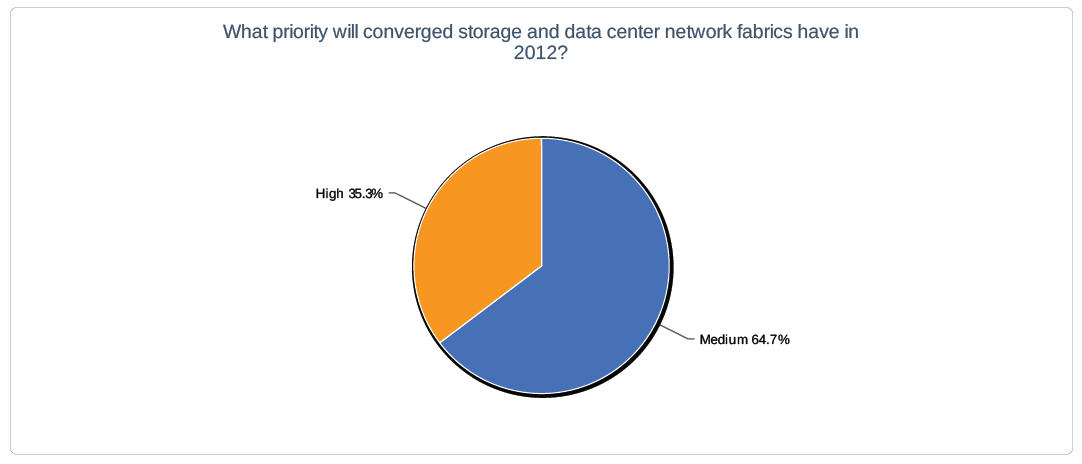 Figure 5. Converged storage and datacenter network fabric priority
WAN optimization, remote connectivity see interest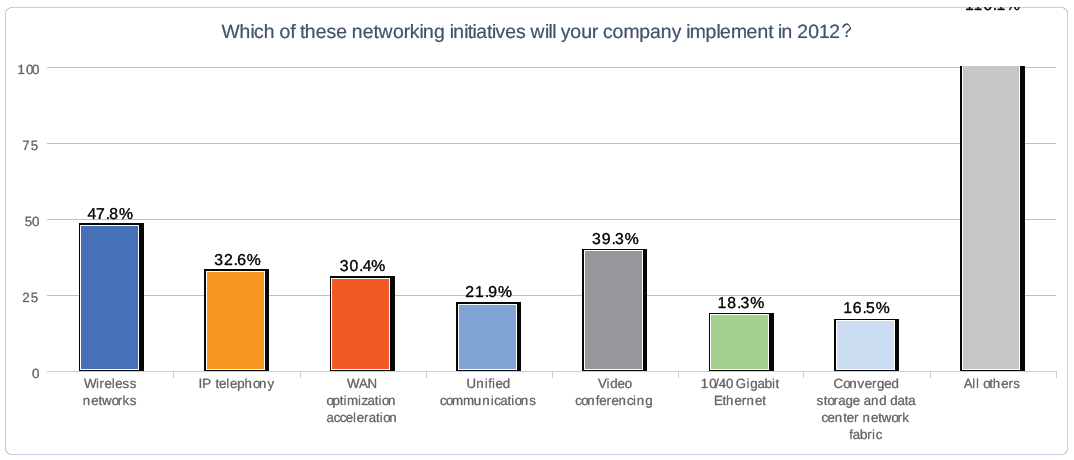 Figure 6. Networking projects for 2012
IP telephony's third place in our top priorities list was hotly contested by WAN optimization/acceleration, which saw 30.4% of our respondents identifying it as an important spend this year. This was followed by spends on remote access/branch office connectivity, with 31.3% of our respondents rooting for these investments. Unified communications (21.9% of respondents), network virtualization (28.1%), network automation (24.1%) and IPv6 adoption (24.1%) were among the other networking projects that haven't seen major uptake this year in Indian data centers.