Konstantin Sutyagin - Fotolia
The growing influence of the CIO
The role of IT leaders has changed radically over the past decade. Today, digital technology is bringing CIOs new opportunities, higher budgets and the chance to make a strategic difference
In 2005, CIOs had largely replaced IT directors, but they were still relatively minor players in their organisations. Barely one-third sat on their executive committees. CIOs just looked after that tiresome technical stuff.

Download this free guide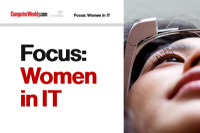 Gender diversity in the technology sector
In this e-guide, we tackle the issue of diversity in the IT industry and try to uncover why the number of women choosing IT as a career has been stagnating over the past few years. We also dissect some of the solutions that will help to increase the number of women in IT offered up by those fighting on the front line.
But now CIOs are very different creatures. Today, nearly two-thirds take their seat at the top table and their remit is evolving and expanding, according to the Harvey Nash/KPMG 2017 CIO survey.
The post-financial crisis retrenchment is long gone and a new digital world of opportunities is blossoming. Almost half of CIOs are reporting significant budget increases, and only a tiny proportion still suffers cuts. Expectations are high.
But if you thought today's CIO just ran IT, then think again. Most leaders now spend about 15% of their time doing things outside their traditional remit. Some are taking responsibility for other functions, but many CIOs are in the business of strategic change.
Computer systems have, of course, been automating business processes for decades, but in recent years, board members have become deeply disturbed by the spectre of digital disruption.
Nobody wants to wake up one morning and find their business wrecked by an Uber-like upstart. Smart CIOs are therefore getting ever closer to their CEOs and, as trust levels grow, they are increasingly taking ownership for the agenda of change across the enterprise.
The old perspective of IT as the weak service provider that "always said no" is rapidly receding. Organisations are looking to CIOs as a guide to lead them in an uncertain world.
The wider IT industry seems to be up to the task of supporting CIOs. They tell us that the IT supply chain is probably performing better than ever. Cloud computing has been a particular success for many. This is critical. Nobody wants to talk about strategy when there are screaming outages. That's not the kind of disruption anyone wants.
Read more from the survey
CIO job satisfaction reaches a three-year high as organisations hire more IT staff and invest in innovative digital technology.
Three steps to help CIOs drive innovation in their organisations.
As the hype about digital recedes, we are getting an idea of what's really going on. Uber-style disruption is hard to find. Instead, we see CIOs leading myriad almost experimental digital ideas, happy to fail fast and move on. Digital is becoming ubiquitous.
And there's more to come – the robots are definitely on the way. More than one-third of CIOs tell us they are investing heavily in robotic process automation, cognitive automation and digital labour. The manufacturing, utilities, financial services, transport and pharmaceutical sectors are leading the charge.
Yet confidence in cyber security is at an all-time low. Organised cyber criminals, hackers, insiders and "foreign actors" are keeping CIOs awake at night. Nearly one-third of respondents to the survey have dealt with a "major incident" in the last two years – up from one-fifth three years ago.
Despite stratospheric expectations and almost intractable challenges, CIOs are a happy crowd. More than 80% tell us their jobs are fulfilling. With CEOs encouraging CIOs to pull the levers of power and lead the enterprise into a new world, we think there has never been a better time to be a CIO.
---
The Harvey Nash KPMG CIO survey gathered almost 4,500 responses from 86 countries, making it one of the largest IT leadership surveys ever undertaken.
Read more on CW500 and IT leadership skills